Every property is unique—your property management software should be, too. That's why we're all about choice here at Rent Manager—providing you with an ever-growing network of integrations to help tailor the software to custom fit your business' specific needs. Since our last periodical, we've partnered with even more integration providers to help personalize your experience.
Let's take a look at our newest Rent Manager Integrations for 2019:
Eviction Assistant supports property managers in their relationships with tenants, from making it simple to file an eviction lawsuit to accessing accurate, seamlessly updated tenant information in your database.
Never worry about changing your air filters again. Second Nature ships the exact size and quantity of air filters you need, directly to your front door with accompanying—and simple—installation instructions.
All of your operational purchases found in one place. Purchasing Platform offers a centralized e-commerce site designed for real-estate operators. Users are able to significantly reduce the number of trips they make to the store, while portfolios gain valuable transparency over products and services.
RentVision enables you to generate more qualified traffic when you have a sudden increase in vacancy and saves you marketing dollars when it's under control.
Resident Research is a resident screening service that provides records, employment/salary verification, and more to property management companies across the United States.
Working directly with state apartment associations and landlord-tenant attorneys, TenantTech provides all the lease forms, move-in paperwork, legal notices, and other documents you need to manage your properties while staying in full compliance.
Background screenings, simplified. Weimark provides advanced solutions and information that property managers can trust. Screen applicants, view reports, and manage your account all from one easy-to-use platform.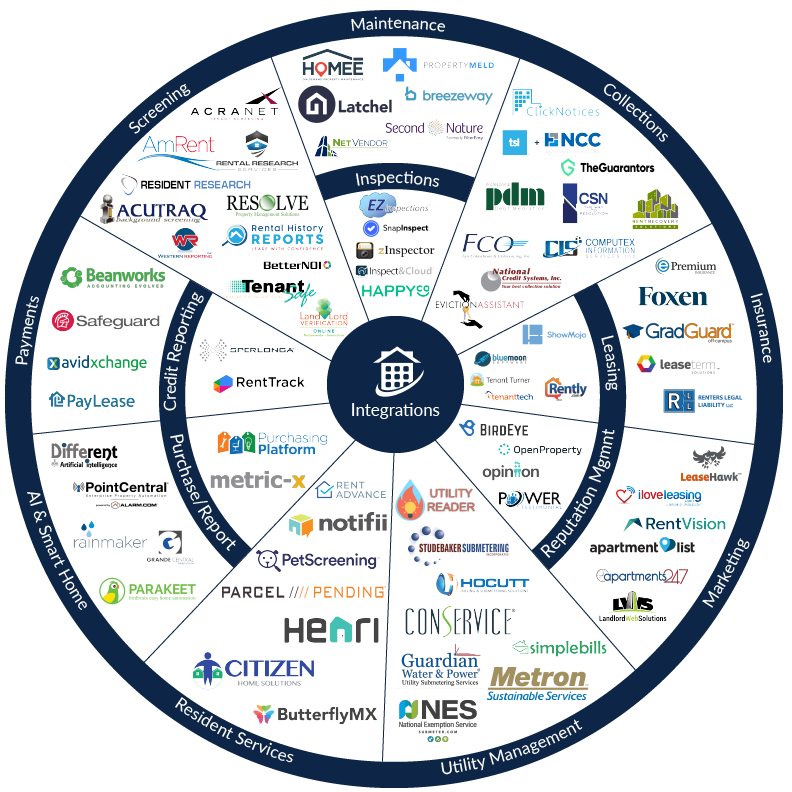 New integrations coming soon!
Finding the right tenants for your property is important. ACRAnet offers a variety of screening services—including credit, criminal, eviction reports and more—to ensure you're making the best decisions for your business.
With a less than .01% error rate, AQUTRAQ accurately reports on the credit, criminal, and eviction history of your tenants. In business for more than 20 years, ACUTRAQ helps ensure that you receive comprehensible background screening reports that help you make the right decisions.
Apartments 247 is a leading service for custom-built websites and online marketing tools that help property management companies stand out from the competition.
ButterflyMX designs cloud-based software and touchscreen hardware that enables property managers to review photos, manage tenant permissions, and more, providing a complete building entry solution for residential, commercial, and student housing properties.
Citizen Home Solutions helps streamline a tenant's needs as they move into a new space, making the move-in process much easier and providing an additional revenue stream for property managers. Their solution helps connect all utility services—such as cable, water, electric, and more—so that residents are ready to go upon arrival.
Collection Service of Nevada (CSN) offers an integrated, ethical approach to rental defaults. They have a fully staffed legal department and top-notch expertise with Nevada law, allowing them to use the courts to handle balances with a high and favorable rate of recovery.
Foxen Insurance provides a simple solution for managing Renter's Liability Insurance. This integration is designed for ease of use at the property level and adds value in many ways, including a revenue share with ownership.
GradGuard is a student housing management tool. This integration helps property managers effectively work with students in any financial situation and/or if personal belongings are damaged or stolen.
Guardian Water and Power provides a full platform of utility cost recovery services, ranging from submeter system design to utility billing and management.
Metron-Farnier offers a line of high-performing water meters with smart meter technologies, providing information on your property's water usage beyond billing data and consumption.
Pacific Screening specializes in applicant investigative reporting, providing quality screening to property managers, owners, and employees.
PetScreening is a no-charge screening service for property managers. Screen household pets, validate reasonable accommodation requests for assistance animals, and hold tenants accountable to your property's pet policies with PetScreening.com.
Rent Advance presents more housing opportunity for tenants by approving 80% of applicants. This allows you to bring on more tenants, while Rent Advance assumes the risk.
SimpleBills facilitates the utility payment process for residents through an easy-to-use mobile platform, enabling tenants to easily manage their payments and you to conserve resources.
Tapi is your go-to for effective property maintenance. This comprehensive software solution turns an often-stressful process into a simple experience that brings you closer to your tenants and helps grow your business.
Western Reporting is a full-service background screening company that offers a wide array of services catering specifically to the employment and property management industries. Western Reporting provides more than 150 services, including credit and criminal background screening, social security number verifications, employment verifications, tenant scorecards, business verifications and more.
Optimize the power of your Rent Manager experience
Our open API system gives you the freedom to custom fit your software to match the complex needs of your business. Learn more about Rent Manager's Integrations by visiting our website or by viewing the new Available Integrations section on the Admin tab of Rent Manager.
Interested in becoming a partner? Rent Manager is continually working to expand the capabilities of our software—contact our Channel Partner team to learn more.
By Kelsey Rizzuto