About Rent Manager
Rent Manager is proven property management software for companies that handle real estate portfolios of every type and size.
With complete accounting and reporting resources, intuitive marketing and mobile tools, comprehensive work order and management capabilities, and an ever-growing network of integrated providers, Rent Manager is the one software you need to continue growing your exceptional business.
View Our Brochure
Advanced Property Management Software
Whether you manage a single community or thousands of properties, Rent Manager's unique flexibility and capacity for customization enable you to tailor the software to meet your specific needs.

Simplify your daily activities through workflow management and task automation to free up more time to focus on your tenants, your properties, and building your business. Rent Manager delivers a true all-in-one solution for all your property management needs.
Rent Manager Standalone
The standalone version of Rent Manager is an independently operated software system that is installed directly onto your home or office computer.
This format of the program does not require a network connection to interact with your data.
With Standalone, you have access to all of Rent Manager's core features, as well as a few additional options to meet the needs of your business.
Free Demo
Rent Manager Online
Rent Manager Online (RMO) lets you access your real-time database on any computer that has an internet connection.
Hosted on state-of-the-art servers in our cutting-edge data center, RMO provides all of Rent Manager's Standalone functionality, plus additional features that are only available to online users.
Live technical support, automatic updates, and data backups are also included with RMO at no additional cost.
Free Demo

Rent Manager Online (RMO)
Core Functionality
Residential & commercial property management system
Double-entry accounting system
Work-order management system
Customer relationship management (CRM) database
Prospect- and lease-management tools
More than 450 built-in reports, with drill-down capabilities
Available Features
Report Writer: Customize feature-rich reports-fast!
CAM & Reconciliation: Calculate, distribute, and reconcile charges associated with your commercial properties
Metered Utilities: A single system for tracking utility billing information
API Platform: Integrate external software solutions, develop custom applications, and more using Rent Manager's API capabilities
Expanded Marketing Reach: Push all of your vacancies directly from your database onto various Internet Listing Services (ILS) platforms
Online Applications: Automate the process of receiving applications, collecting fees, and screening prospective tenants with Rent Manager's Apply Now feature
Task Automation: Eliminate all sorts of repetitive activities—like posting recurring charges and late fees each month. Task Automation lets you set up posting schedules and Rent Manager automates these routine activities for you.
Signable Documents: Create electronic signable lease documents that can be sent to prospects or tenants using Tenant Web Access
Web Portal Suite: Online portals for tenants and owners to access tools such as signing documents, making payments, and more
Report Automation: Schedule and email report batches automatically
rmAppSuite Pro: Rent Manager's mobile app for inspections, service issues, payments, contacts, and more
Data Protection
Includes software updates and technical support
Snapshot backups are created multiple times a day
Fault-tolerant platform with automatic and instant data replication
---
Industry Affiliations
Rent Manager is proud to partner with the following companies and organizations within the property management industry.
Ideal for portfolios of every size, Rent Manager is your key to an effective and efficient property management business.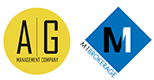 Shawna Thompson
AG Management

Everyone's portfolio is different. The ability to pick and choose which companies integrated providers to work with makes it Rent Manager customizable to your unique company's needs.