Training
Rent Manager's training opportunities empower you to gain a full understanding of the software. Our comprehensive, interactive learning resources can help you build a foundational knowledge of the software, set up your database, optimize Rent Manager to meet your business' particular needs, and train new employees quickly and completely.
We provide a variety of options—from instructor-led courses to self-guided eLearning—as well as custom solutions tailored to fit your operation's exact training requirements.
Training Calendar
Each month we bring you a variety of ways to enhance your Rent Manager knowledge. Click on a session in the calendar to view the full description and registration information!
---
Rent Manager University
Rent Manager University (RMU) is an all-inclusive training portal, jam-packed with hundreds of courses, instructional videos, and guided self-learning opportunities. All conveniently packaged behind one login, this robust training platform is the same program we use to train our employees on Rent Manager.
---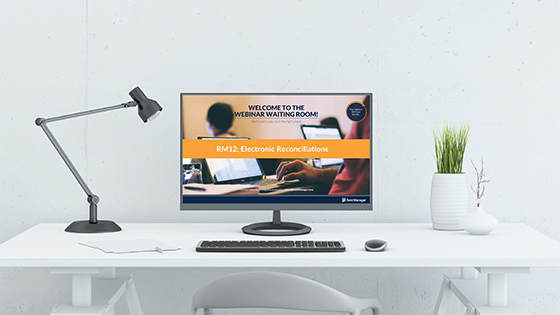 Guided Online Training
The Rent Manager Training department provides tools and resources for every learning type with several guided online training options. Fully engage with the software and gain valuable best-practice knowledge through the Virtual Classroom, Weekly Webinars, and Tech Tuesdays.
Virtual Classroom
Engage and connect with your fellow Rent Manager users in a live, digital classroom setting as a Rent Manager expert demonstrates how to accomplish essential tasks within the software.
Weekly Webinars
Join Rent Manager experts from our Training team as they take a deep dive into a new Rent Manager feature or enhancement every week. This FREE session occurs every Thursday at 2:00 PM Eastern.
Tech Tuesday
This complimentary webinar series highlights the most innovative technology and thought-provoking trends in the property management industry. Our integrated providers host each session on Tuesdays at 2:00 PM Eastern.
Rent Manager Certification
As a property management professional, you want to assert yourself as an experienced, fully prepared resource for potential owners. By earning your Rent Manager Core Certification, you'll be able to position yourself as a leader in the industry and prove your skill and ability as a Rent Manager user.
The Core Certification test tackles fundamental Rent Manager tasks, like writing checks, handling payment allocations, creating prospects, renewing leases, and more.
Take the proctor-led certification test from the comfort of your home or office. Ready to position yourself as an experienced property management professional? Reach out to your Sales Representative today to schedule your certification!
Custom Training & Consulting
If you have unique training needs, we will work with you to develop, plan, and conduct a specialized Rent Manager course that deals with the topics relevant to your business. Customized training can be conducted at our facility or yours in full-day classes, or via an online virtual session.
Each training block is customized to meet your specific needs and is presented by knowledgeable instructors who are capable of providing individual tutoring or group training.
Ideal for portfolios of every size, Rent Manager is your key to an effective and efficient property management business.

Christine Caswell
PacRim Properties LLC

Rent Manager isn't just a software, they have done an excellent job creating a community and culture. I am happy to be part of that and believe it gives our company a competitive edge to be affiliated.