Rent Manager University
Rent Manager University (RMU) is an online training platform designed to help you and your employees make the most of Rent Manager. Each RMU course is made up of short modules, designed to fit into your busy day.
To keep you engaged, courses include training videos, eLearning activities, software simulations, and assessments. Take training when it works for you with RMU.
Log Into RMU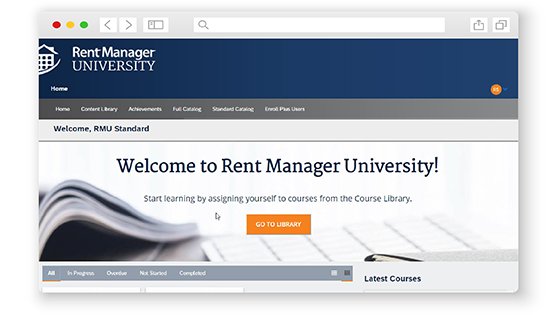 RMU Standard
As a valued customer, we want to give you the tools you need to get started with Rent Manager. That's why we provide free access to RMU for one user in your office. With this complimentary account, you'll have access to introductory courses designed to help you set up your Rent Manager database and complete basic receivables and payables operations in the program.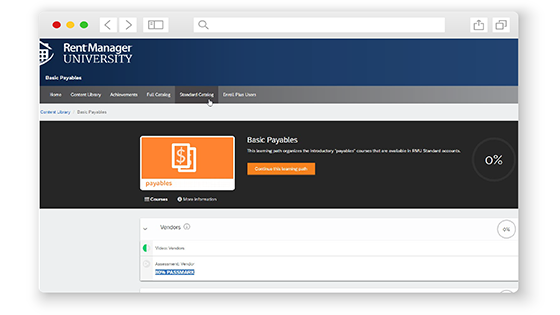 RMU Plus
Your training possibilities are virtually endless when you purchase RMU Plus. This solution gives your staff unlimited RMU user logins and access to our entire course library. This includes hundreds of sessions with new courses added almost weekly. You give us the names of the employees who need access and we take care of the rest! It's the easiest way to provide your staff with comprehensive Rent Manager training.
RMU Premium
Want an even more customized training experience? Sign up for RMU Premium. This tailored resource allows you to manage your very own Learning Management System (LMS). This means you can create accounts, assign individual courses, monitor performance, run reports, and even create your own content with our native authoring tools!
With Premium, an RMU Implementation Advisor will help you set up your training system and teach you how to self-manage your new LMS.
Ideal for portfolios of every size, Rent Manager is your key to an effective and efficient property management business.

Christine Caswell
PacRim Properties LLC

Rent Manager isn't just a software, they have done an excellent job creating a community and culture. I am happy to be part of that and believe it gives our company a competitive edge to be affiliated.