Marketing & Leasing
Fill your vacancies faster with strategic, automated online marketing tools. Upload photos of your properties and units to your Rent Manager database and seamlessly push listings to your company website and industry-leading ILS sites. Streamline your prospecting and leasing process with online applications and digital leases that include built-in eSign technology. Leverage increased visibility and quickly convert prospects into paying tenants.
Prospect & Tenant Online Portal
Rent Manager's Prospect and Tenant portal is the ultimate online resource for prospective and current renters. This secure resource gives tenants the flexibility to pay rent and other charges online, electronically sign leases, and submit maintenance requests rather than make a trip to the leasing office, which also results in fewer interruptions for you.
Online Applications
Signable Documents
Online Leasing & Renewals
Online Applications
Rent Manager's online application abilities provide convenience for your prospects and quicker approval response times for your management company. Craft your own application templates that prospects can easily access and complete on your website.
Kick off the application and leasing process with confidence.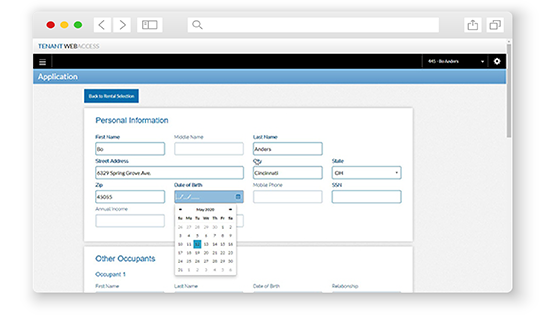 Signable Documents
Take your leases to the next level. Signable Docs allows you to place signable fields on any document. Prospects and tenants can review and sign the documents electronically through their online portals.
Once you have received a signature, the document will appear in your Rent Manager database.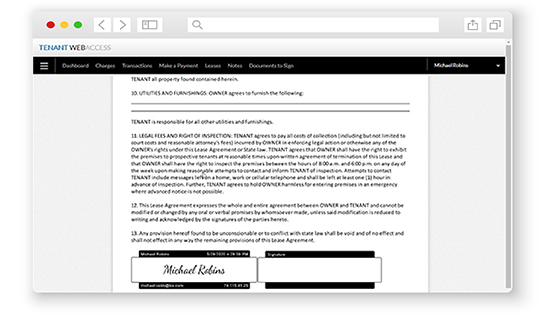 Online Leasing & Renewals
Go digital with your leasing and renewals process. With Rent Manager, tenants can access and sign their leases from any web-enabled device—allowing you to streamline this crucial aspect of your business.
Remove the stress and unnecessary paperwork from lease renewal season with this efficient digital resource.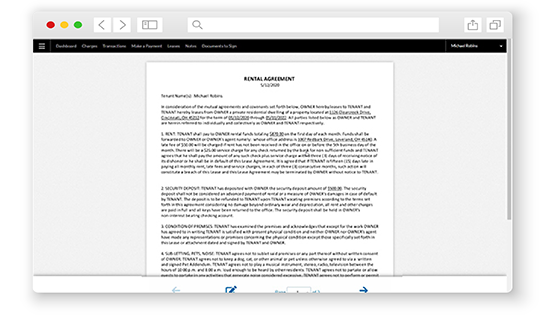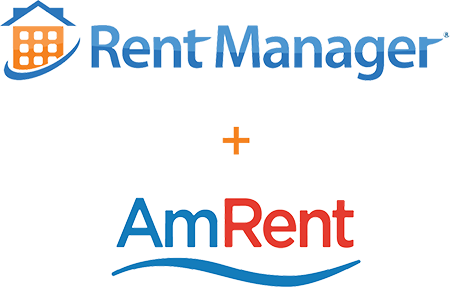 Resident Screening
Uncover potential credit issues—such as late payments or accumulated debt—as well as criminal and eviction history with Rent Manager's fully integrated Resident Screening capabilities.
Safeguard your communities from potential risks with a comprehensive screening program that doesn't require any complicated setup on your end.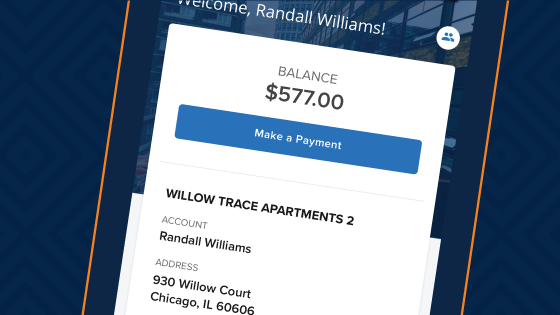 Resident App
Keep residents in the know, even when they're on the go. rmResident is a secure, easy-to-use mobile app designed to keep renters and property managers connected. Residents can use the app to make and view payments, review work orders and submit new ones, and more. Property Managers can respond to and resolve service issues while staying in touch with renters, anywhere, at any time.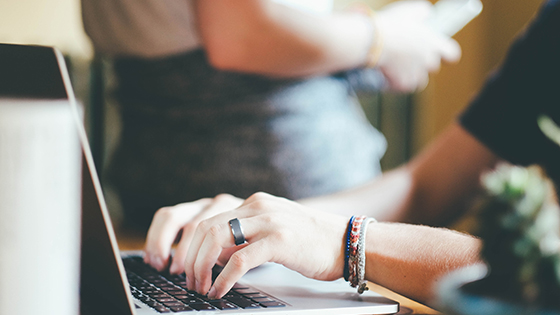 Prospect Manager/CRM
Turn prospects into tenants with Prospect Manager. This powerful feature provides valuable insights, tools, and reports that make tracking your prospects and marketing campaigns a breeze. Tailor your message to each prospect with customizable unit profile letters to speak directly to potential tenants who have certain amenities in mind.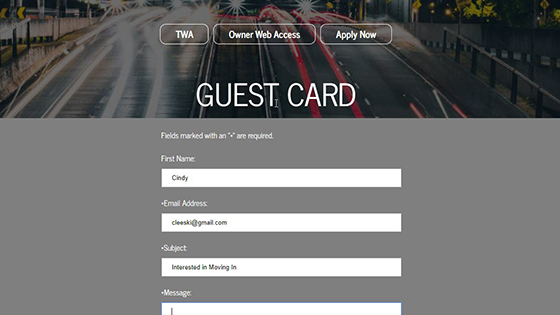 Guest Cards
Never miss a chance to connect with future customers through strategically positioned Guest Cards. Guest Cards allow you to place a contact submission form on your custom website. Prospects browsing your site can quickly submit answers to the questions you craft via Rent Manager's Guest Card template. These submissions also automatically generate a Prospect contact profile in your database.
Website Design & Development
A professionally crafted website makes a world of a difference in your marketing efforts. Our expert Web Design and Development department can craft a flexible, high-caliber website for your business that fully integrates with Rent Manager. Incorporate your brand into a stunning visual layout to drive more traffic to your properties.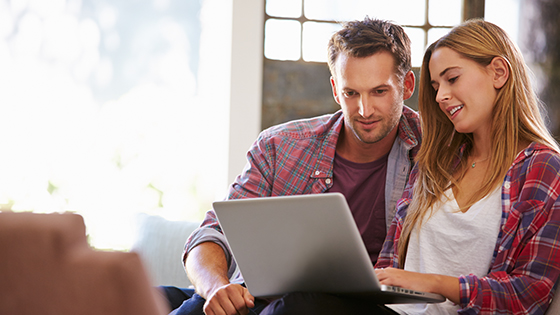 ILS Advertising
Increase your unit marketability by taking advantage of Rent Manager's internet listing service (ILS) integrations. Effortlessly push your unit and property information from your database onto various ILS platforms. All data changes in Rent Manager automatically update on each ILS site, so you'll never have to worry about posting an unavailable unit or listing inaccurate rates.
Web Chat
Inspire immediate, effective communication through Rent Manager's Web Chat feature. This convenient resource enables prospects to send messages and connect with your team instantly via your website. Chats appear in the My Conversations window of your Rent Manager database, where you also have the ability to create a queue structure so every inquiry is answered promptly, by the right member of your staff.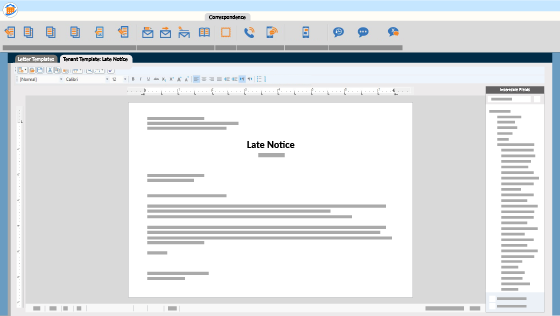 Letter Templates
Rent Manager's powerful Online Template Library is a continuously updated resource full of industry-standard property management letters, such as 5 Day Pay or Quit, Automatic Payment Instructions, Balance Due, and more. Customize your letters to automatically incorporate unit, property, prospect, tenant, owner, or vendor information through dynamic rmScript commands. Once complete, you can email, export, and print letters directly from the software.
Bird's Eye View
Bird's Eye View allows you to build an aerial picture of a property and its associated units. Create custom maps that visually report delinquencies, vacancies, amenities, and more. This unique add-on feature is ideal for any type of property management operation. Bird's Eye View illustrations can also be used for marketing materials, quick-reference guides, and directional maps.
Ideal for portfolios of every size, Rent Manager is your key to an effective and efficient property management business.
David Aschheim
Sola Salon

Throughout the course of the month, Rent Manager allows us to get our bookkeeping done in a quarter of the time it used to take… With that extra time, we can focus on building the business. The last thing I want to do was spend more time with bills.