RV Park & Campgrounds
Rent Manager offers a full suite of campground management solutions designed to streamline operations for park managers.
Reservation management tools, online booking functionality, dynamic rate scheduling, and check-in management workflows make managing short-term stays a breeze!
Guest Management
Manage all reservations with a modern and intuitive dashboard built for short-term nightly stays. Quickly track availability at your parks and customize your dashboard to fit the unique needs of your business.
Texts
Stay connected with Rent Manager's texting capabilities. The Text Messaging Center enables you to send text and media messages directly to your guests.
Phone
There may be times when you need to reach your guests quickly due to special circumstances like cancellations or inclement weather. Our Phone Broadcast feature allows you to call as many guests as you need to in a quick, efficient manner.
Email
When you need to email important information to your park and campground guests, Rent Manager has the tools to get the job done. Select guests from your database, compose your messages, and send them directly from the software.
Chat
If your guests ever need to communicate with you in real time about questions, issues, or requests, they can do so via Web Chat. This built-in website feature allows you to chat with visitors about any park- or campground-related inquiries, and later organize your discussions with categories that fit your needs.
Online Booking System
Create new reservations in the matter of seconds! Track existing reservations and add critical information related to a guest's stay. Rent Manager's modern CRM system enables you to place unit availability listings on your website for guests to create their own reservations. Once their stay is scheduled, a new reservation is automatically added to Rent Manager with complete details included.
Dynamic Pricing with Rate Scheduling
We know many campground managers adjust pricing based on market trends. That's why we've enabled advanced rate-schedule-customization options for pricing your units. Want to charge a different rate for summers, weekends, and holidays? Or maybe you want to add discounts, fees, and tax calculations—do so easily with Rent Manager!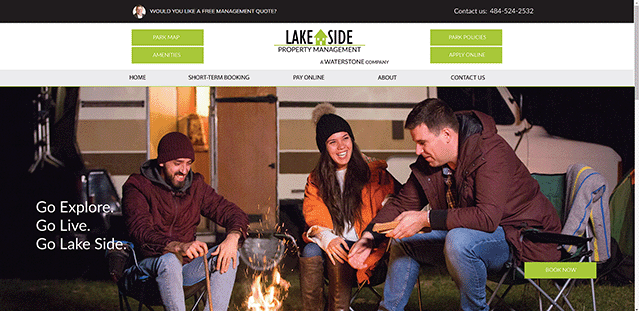 Custom Websites
Does your website need a refresh? Or are you looking for a specialist to create Online Reservations functionality on your site? Whether you want a simple layout that can accommodate unit availability synchronization with Rent Manager, or a more complex site redesign—Rent Manager's web design team is here to accommodate your goals and budget!
Enhanced Accounting System
Rent Manager's double-entry accounting system is equipped to handle every aspect of your finances. Whether you manage one or thousands of parks—or you have a combination of short- and long-term stay properties—our customizable system allows you to maintain complete control over your accounting data with time-saving accounts payable and receivable processes. And advanced, customizable reporting empowers you to track and measure performance over time.
Ideal for campgrounds of every size, Rent Manager is your key to an effective and efficient park management business.