The Low-Down on RSS
The "dog days" of trolling the web to keep up with your favorite industry blogs and websites are over! Subscribe to RSS feeds through Microsoft Outlook, and the articles and updates you want will be waiting for you in your inbox whenever they happen, and you don't have to lift a finger!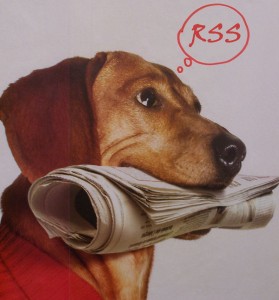 RSS feeds, or Really Simple Syndication, allow you to consolidate the information you want and access it more efficiently. By setting up a new RSS Feed through Outlook, you'll know what is being posted on the Rent Manager blog, as well as other industry-related websites that you keep up with.
It's easy to get the information you want, delivered right to your email. Simply follow the set-up instructions below and you'll be on your way!
How to Use Outlook's RSS Reader
From your inbox view, click the File tab.
Click Account Setting, and then click Account Settings.
On the RSS Feeds tab, click New.
In the New RSS Feed dialog box, type the URL of the RSS Feed. For example: http://feeds.feedburner.com/RentmanagerBlog
TIP! In most Web browsers, on a web page, you can right-click the RSS icon, and then copy the shortcut to the clipboard. Press CTRL+V to paste the information from the clipboard into the RSS Feed location box.
Click Add .
Click OK.
It's that easy! Once you're set up, blog articles will be automatically delivered to your RSS Feeds folders, which you can access via the Folder List window.
About LCS
Headquartered in Cincinnati, Ohio, London Computer Systems (LCS) is a developer of business-critical software technologies used in all 50 states and several markets throughout the world. LCS products include Rent Manager property management and accounting software, Net Dial Tone (NDT) VoIP telephone systems, and Sentry Data Backup strategies.
LCS also provides enterprise-level hosting solutions via its Sentry Data Center; complete network design, implementation, and support services; custom web site design; and more. With over 17,000 customers, LCS combines best technology with best practices to create a unique, customer-focused service.
For more information about LCS and its products, click here.
Photo credit: stylianosm/Foter/Creative Commons Attribution 2.0 Generic (CC BY 2.0)