It takes unique people with different backgrounds to collectively develop the kind of technology that really changes the way business is done. The team at London Computer Systems (LCS), developer of Rent Manager®, is no exception. We've got an energetic bunch of code-loving gamers on board, helping create the next wave of revolutionary products for our users every day. 
This month, we sat down with one of our spunkier Software Developers, Nate Ray, to hear what it's really like to work at LCS. As an employee of over 4 years, Nate's had his fair share of experiences to shape his creative outlook on life and work. So without further ado… Here's what Nate had to say:
Nate, can you tell us a little bit about yourself? Let's start with your favorite part of the job.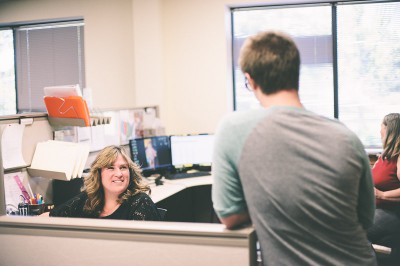 Choosing just one part of the job as my favorite is a very difficult thing to do. There are so many aspects of my work that I love, but if I had to choose one, I would say it's the people.
Every day is completely different at LCS. My main responsibilities revolve around making tools and automated procedures for our employees. This gives me the wonderful opportunity to talk to so many different people within the company, and I have to say, everyone here is incredible. I get to interact with all of the various departments on a daily basis, learn more about their responsibilities and roles, and find ways I can help make their jobs easier. Sometimes that includes a short discussion on the awesome round we had in Counter Strike, or how great that sniper shot was in Battlefield, or how… well… you get it. Developers talk about video games. We never grow up! Even those of us who aren't video game nerds still have a great time.
But I digress. My favorite part of the job is definitely the opportunity to talk with others about what could be useful, then head back to my desk and write the code to make necessary tools and processes available for them. I absolutely love helping others, and I get to do that every single day.
What do you like about working at LCS?
Not to repeat myself, but it is definitely the people that I work with. The team at LCS is full of heartwarming individuals who are passionate about what they do. It's so easy to come into work every day with that kind of environment. In addition to my co-workers, the people I meet every year at the Rent Manager User Conference (RMUC) are also wonderful. RMUC is such an energizing part of the year. I really look forward to all of the exciting new features we get to showcase during the conference.
What has been your biggest success while working at LCS?
I have to say my biggest success at LCS is our internal employee web portal used by our Systems, Development, Sales, and Quality Assurance teams. Over the past few years, I've added tools to the website that allow employees to manage our customer accounts, manipulate our testing environments, run internal reports, deploy Rent Manager updates, and even convert our customers from Rent Manager Xi to Rent Manager 12. The most exciting part of the website is that it grows every single week as we come up with more awesome ideas to turn into useful tools.
Do you have any specific work goals for 2016?
This year, I hope to continue to expand and add to our internal toolset. There are so many opportunities for automation. I can't wait to see what we can come up with. I also hope to add another person to my team so we can continue to grow our internal toolset for our employees.
Additionally, every year toward the end of the first quarter, I get to start working on User Conference-related projects—anything from features we display in the Keynote Presentation to the conference registration portal. It's so exciting to get new things prepped and ready for our customers. It's a great feeling to see the things I create in the hands of other people, and the conference has such a strong energy that I love being a part of every year. For those of you who are coming to the conference in Orlando this October, be sure to say hi. I want to meet as many of you as I can!
Outside of work, what do you enjoy doing most?
So outside of work, it's generally the same thing: video games, video games, VIDEO GAMES! We have a solid group of roughly 10 people in the office that we play games with almost every day after work. My ideal night is sitting at home, watching The Office on Netflix on one monitor (or Harry Potter, or Lord of the Rings, or Star Wars), and on the other monitor, a video game, while on voice chat with the people I just saw 10 minutes ago at the office… as my two cats Emma and Lily cause a ruckus and cheer on my quest to slay the baddest dragon ever. Note my serious gaming face and know I mean business!
A lot of us also get together once every month or so to play board games together. It's great to work with such awesome people and get together on weekends to have some fun!
So there you have it. Nate's enthusiasm for the job is clear, and quite frankly, contagious. Though the real passion comes from the programs we produce, working alongside such inspired workers sure does make the days that much sweeter.