Rent Manager® is pleased to announce the addition of exciting new service provider partners, and updated features from long-time partners. These are available via our open application programming interface (API) integrations.
Providing Rent Manager Online users the ability to work with any technology partner they choose ensures the highest degree of software customization on the market. The complete read/write capabilities of our open API system make integrating business-specific solutions as seamless as possible. This allows Rent Manager to easily communicate directly with users' preferred service providers.
Integrated Providers Available Now Through the API
Beanworks. Providing accounts payable automation from purchase to payment across North America, Beanworks eliminates data entry, offers configurable workflows, and brings your team together online in the AP process. With online approvals and instant invoice submission through mobile or desktop devices, Beanworks connects multi-entity businesses for simple and delightful accounts payable.
BetterNOI. BetterNOI helps improve your bottom line by analyzing and optimizing five key areas of the multifamily operation: leasing, screening, collateral, leasing risk, and collections.
BirdEye. Managing online reputation is vital to success in small business. BirdEye helps manage and automate online review generation to collect tenant experience ratings that help you grow your business with the best kind of marketing: word of mouth!
ePremium. Protect your property with the gold standard in renters' insurance. Offering options for both renters and property owners, ePremium knows the unique needs of the property management industry.
LeaseTerm Solutions. Risk management is a vital part of property management. LeaseTerm Solutions offers two unique solutions created with the multifamily industry in mind. They offer LeaseProtect, a security deposit alternative, and AssetProtect, a renters' insurance solution. Each is designed to give you the peace of mind that comes with complete protection while improving your bottom line.
PointCentral. The smart home revolution has hit the property management industry with full force. Offering smart solutions in your rentals is quickly becoming one of the most sought-after perks of the industry. PointCentral's reliable cellular-based architecture, proven in more than 5 million properties, improves operations, provides real-time property status, monitors HVAC performance, reduces energy costs, and more. Attract more residents, increase resident loyalty, and boost NOI with PointCentral, a subsidiary of Alarm.com.
---
Updates to Rent Manager's Preferred Providers
AmRent. Our preferred screening partners at AmRent have implemented helpful new features this year to help ease and automate the process of both screening your prospects and importing their information into your Rent Manager database. With a predetermined minimum decision level setting for approvals, the inclusion of an address tab for additional rental contacts, required middle name field, and secured, permission-based fields that make the screening process smoother and safer for everyone, AmRent has you covered when it comes to tenant screening.
PayLease. Credit Reporting. Rent Manager's preferred partner for online payments, PayLease, is now offering rent-payment credit reporting to two of the largest credit bureaus: Experian and Transunion. A benefit to renters and property managers alike, this feature provides extra incentive for on-time payments.
ePay Split Deposits. Rent Manager users who make use of PayLease's ePay functionality now have the ability to split ePay-processed payments received across the appropriate bank accounts based on predetermined settings.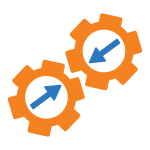 Taking advantage of our open API system is the key to advanced customization and complete automation. It enables you to optimize the power of the Rent Manager property management platform. Learn more about all of our partners at RentManager.com/Integrations. You can also find webinars on new releases and partner updates in Rent Manager University. Plus, watch for regular Tech Tuesday webinars presented by our partners.