A fun and factual side activity at the 2014 Rent Manager User Conference was the Rent Manager Property Guru game. The exercise posed three property management-related questions to conference-goers, who then had the opportunity to share their best and brightest solutions for each query. Attendees then had the chance to vote for their favorite answer to each of the questions, with the winning answer earning its author a prize and the title of RMUC Property Guru. The participants who were crowned 2014's Property Gurus are: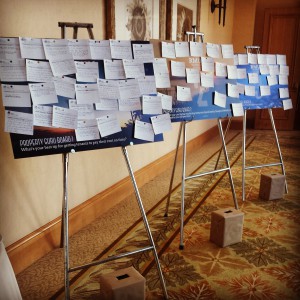 Amy B. of Main Street Properties
Andrea M. of Destination Properties, Inc.
Lauren O. of Pan American Properties, Inc.
We have shared each question and the associated answers in the recent issues of the Community Advisor. In the January edition, we shared best practices for getting tenants to pay their rent on time. In February, we revealed which digital marketing resources conference goers use to promote their properties. In this third and final installment, we'll answer…
What is your favorite Rent Manager tip or trick?
I LOVE the Search [Command Launch] feature. You can input anything (name, phone number, email address, etc.) and Rent Manager will pull EVERYTHING that relates to your inquiry. It saves so much time!
Creating a custom report based on maximum unit occupancy and current tenant count so you can see vacancies at the bedroom level, rather than unit level. This helps us ensure that every opening is occupied.
Through our NDT phone integration, we're able to record all of our calls so I have proof of conversations. Plus it helps me monitor how my agents are handling tenant calls.
Rent Manager allows us to track an endless number of things via User Defined Fields. We can also easily look things up by using the software's Filters. User Defined Fields + Filters = Nothing is Impossible.
Customize, customize, customize! Using all of the tools at your fingertips, Batched Reports, Drill-Down Capabilities, and customized icon tool bars.
I love, love, love the Letter Template Manager and scripting! It creates consistent and correct messaging that can be sent in many different formats.
Two keys: F3 Quick Search, and F1 Rent Manager Help File!
The right-click menu! Instead of going to the menus themselves, you can create invoices, manage account groups, add a history note, generate statements, or send emails and custom letters from the right-click menu. Just right-click on any customer, owner, or vendor in Rent Manager!
I use the F8 key when entering invoices' it saves a lot of time, especially when I have 100 electric/gas bills to enter. I love it!
Printing checks from Rent Manager using a check printer! We use one blank check form for

all

properties, which allows us to print checks for multiple properties at one time and you don't have to order separate checks for separate properties. It saves so much time and money!
We run audit trails to determine when and where mistakes occur.