A fun and factual side activity at the 2014 Rent Manager User Conference was the Rent Manager Property Guru game. The exercise posed three property management-related questions to conference-goers, who then had the opportunity to share their best and brightest solutions for each query. Attendees then had the chance to vote for their favorite answer to each of the questions, with the winning answer earning its author a prize and the title of RMUC Property Guru. The participants who were crowned this year's Property Gurus are: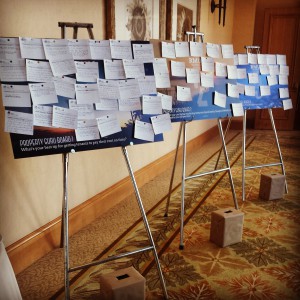 Amy B. of Main Street Properties
Andrea M. of Destination Properties, Inc.
Lauren O. of Pan American Properties, Inc.
We'll be sharing each question and the associated answers in the coming issues of the Community Advisor. In the last edition, we shared best practices for getting tenants to pay their rent on time. In this issue, we'll answer…
How do you use digital marketing resources (social media, Google AdWords, blogging, etc.) to promote your properties?
We use Yelp and YouTube. The more reviews we get on Yelp, the longer our property waitlists grow. And we have found more and more that we are leasing without physical property tours, as prospects are taking advantage of our video tours on Yelp and YouTube.
Our primary goal in utilizing digital marketing resources is branding and personalizing our company so prospects and our community connect with us in a meaningful way. We use these resources to build relationships!
We post vacancies to RentLinx, Craigslist, and other free listing sites. We are 100% leased!
We scan the praise letters we get from happy customers and upload them to our social media pages.
Using just a smartphone, we have created virtual tours of our vacant units via Google Hangouts.
We use digital signage throughout our properties and regularly send out email blasts to our tenants.
We post our available units to Trulia through Rent Manager.
Our resident managers ask tenants to rate their satisfaction with our service on a number of different forums, including ApartmentRatings. They usually make these requests after maintenance calls or other positive experiences.
We post to Facebook on a daily basis.
We recently started posting pictures on our Facebook page of properties that we leased quickly for our owners, with a header that lists the amount of time the property was vacant. "Leased prior to current tenant move-out!" Prospective owner clients really respond to this.
Craigslist is great for posting the availabilities at our residential properties, but YouTube has been one of the best tools we've found for generating new business. We have video testimonials on our channel and an introductory video that outlines our services. We generate a lot of business from these resources.
And for some additional ideas on how to market your communities via social media, you'll want to read this: Are You Utilizing Social Media Outlets to their Fullest Potential?