A fun and factual side activity at the 2014 Rent Manager User Conference was the Rent Manager Property Guru game. The exercise posed three property management-related questions to conference-goers, who then had the opportunity to share their best and brightest solutions for each query. Attendees then had the chance to vote for their favorite answer to each of the questions, with the winning answer earning its author a prize and the title of RMUC Property Guru. The participants who were crowned this year's Property Gurus are: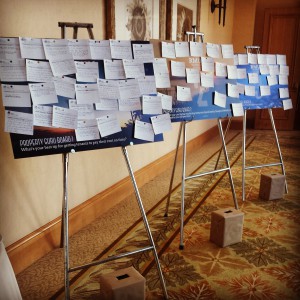 Amy B. of Main Street Properties
Andrea M. of Destination Properties, Inc.
Lauren O. of Pan American Properties, Inc.
We'll be sharing each question and the associated answers in the coming issues of the Community Advisor, beginning with…
What is your best tip for getting tenants to pay their rent on time?
We offer pre-pay discounts:

Pay 3 months in advance, save $50
Pay 6 months in advance, save $100
Pay 1 year in advance, get the 13th month free
I worked at a tax-credit property that would offer a $25 discount if rent was paid by the 5th of the month. Also, during Thanksgiving and Christmas, anyone who paid by the 5th, by money order or cashier's check, would be entered into a drawing to win a holiday dinner.
Rather than an immediate, hefty late fee, we give a discount for on-time payments. For example, rent is $999/month, but if it is paid by the 4th of the month, we discount the rate by $100, to our advertised rate of $899/month.
Hold Early Bird drawings – any tenant who pays rent on or before the 1st is entered into a drawing to win $50 each month. Then, be sure to talk about the winner on your company's blog, facebook page, etc.

Additional prize ideas suggested by other attendees include:

Gift cards to local gas stations, grocery stores, department stores, etc.
Free carpet cleaning
Carwashes
Offer as many payment options as possible and encourage ACH and auto-pay withdrawals whenever possible.
We keep an Occupancy report that enables us to track tenants who pay their rent on-time for 12 months in a row. We then enter those residents' names into a drawing for a free month's rent.
Rent Manager's Phone Broadcast service is fantastic for making automated collections calls.
We send an email reminder to all tenants at the end of the month, which outlines the late fees that will be charged if payments are late. When they see that additional amount, they pay!
We get to know our residents! We call them by name, engage them in conversation, and express empathy when they have issues. Those relationships build loyalty and loyalty pays obligation.
The night before our grace period ends, we email reminders to those tenants who haven't paid their rent yet. The message includes instructions on how to pay online so they can meet the deadline quickly and easily.
Offer a discount on rent if the resident enrolls in your automatic payment service. When a resident is late on their rent, offer to waive any associated late fees if they set up an automatic payment.

*Another attendee pointed out that auto-pay convenience fees are always less than late fees!*