What good is software if you don't know how to use it? Rent Manager is constantly evolving with new features and updates. That's why we've developed extraordinary support and training resources that enable you to get the most out of your Rent Manager experience. After all, our goal is to make your job easier and your business more profitable. There's no shortage of ways the software can advance your operation, and when you require help with the program, our Support Department will provide the expert guidance you need to make the most of Rent Manager.

To save you some time, our support team shared the answers to some of the most commonly asked questions they receive on a day-to-day basis.
Rent Manager Support

FAQ
Q: I have a duplicate tenant/prospect account. Is there a way to combine them?
A: Rent Manager provides the ability to copy one prospect and all contacts on an account into another current prospect or current tenant account. After the merge is completed, history notes will be generated on both accounts to document the merge. The Merge Prospects and Merge Tenant wizards can help in this process.
For example, to merge one prospect into another:
Go to Admin -> Merge -> Merge Prospects.
On the MERGE PROSPECTS pop-up, select Prospect.
Click OK.
Select the Source Prospect you will copy data from, and the Destination Prospect that will receive the copied data.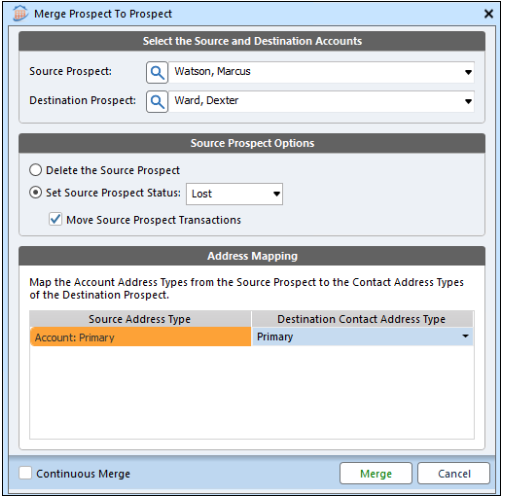 Q: I accidentally entered a tenant payment on the wrong account. What do I do?
A: If you've mistakenly applied a payment to the wrong tenant or prospect, you will need to correct the payment by deleting it from the wrong account and adding a new payment to the correct account.
However, if the payment has been deposited you will receive an ERROR DELETING PAYMENT message which states, "The deposit must be deleted before the payment can be deleted."
Instead of deleting the deposit and additional payments tied to it, you should enter a new payment on the correct account and update the deposit to reflect the correct payment allocation without changing the amount of the deposit.
To do this:
Enter a new payment on the correct tenant or prospect account.
Update the deposit to include the correct payment.
Delete the payment applied to the incorrect tenant or prospect.
Q: No property name or address—or the wrong property name and address—are showing on tenant statements. How do I fix this?
A: Tenant statements use the billing information of the property where the tenant resides. To update the Property Billing Name and Billing Address on the Property General tab:
Go to Rental Info -> Properties -> select the property from the list.
In the "Other Information" section, enter the name you'd like to display on the statement in the Billing Name 1
In the "Address" section on the left, click BILLING.
Enter the address you want to display on the statement for tenants of this property.
Click Save in the lower-right corner of the General tab.
Q: My Rent Manager Online is locked up or shows a black screen. What do I do?
A: Press CTRL+ALT+END on the keyboard, then click Log Off.
Note: (CTRL+ALT+DEL on Mac)
Q: How do I properly close Rent Manager Online? Why am I connected to an open session when I log into Rent Manager Online?
A: When closing out of Rent Manager Online, do not click the "X" for your RDP session (at the top of the screen). Instead, click the Rent Manager Globe in the upper left, then click Close. This will ensure that you are fully logged out of the session and Rent Manager will be ready to start fresh the next time.
Q: How do I install Rent Manager Online?
A: We've created convenient installers for Rent Manager 12 and Xi that automatically take care of the process for you on Windows-based PCs.
Mac computers are also compatible, but require some additional steps to get them up and running. Both installers and the Mac setup guide can be found at www.rentmanager.com/install.
Q: Why can't I log into rmAppSuite?
A: There could be two different issues here. First, you may have used your RMO credentials when trying to log in. You must use your Server credentials first.
The other issue you might be running into is permissions related. To use rmAppSuite, users need to be enabled to access rmService or rmInspection.
This is done in Rent Manager: General -> Options -> Manage Users. Either rmService User or Inspector must be checked, depending on what the user is accessing.
YOUR PARTNER FOR GROWTH
At Rent Manager, we're more than just your property management software provider—we're your partner for growth. That's why we provide ongoing support beyond the software. As part of our customer focus, we offer a wide variety of support, custom services, training options, and more.
SUPPORT: Our support team is available Monday-Friday, 8:00 AM – 7:00 PM EST.
800-669-0871
Fax 513-583-8736
support@rentmanager.com
PREMIUM SUPPORT: This advanced service gives you direct access to a dedicated support representative whose knowledge of your operation will help enhance your Rent Manager experience.
REMOTE ASSISTANCE: Connect with your support representative and allow them to help diagnose/resolve complex issues within Rent Manager.
CUSTOMIZED CONSULTING: If you have unique training needs, we will work with you to develop, plan, and conduct a specialized Rent Manager course that deals with the topics relevant to your business. Customized training can be conducted at our facility or yours in full-day classes, or via an online virtual session.
RENT MANAGER USER FORUM: This private, customers-only Facebook community is a perfect place to bounce questions off other Rent Manager users and learn how other property managers are utilizing the program.