We know you've been waiting for this news, and we promise it was worth the wait! rmAppSuite can now be downloaded for all Android devices via Google Play!
Fully integrated with Rent Manager Online (RMO), rmAppSuite currently incorporates rmService, rmInspection, and rmCapture.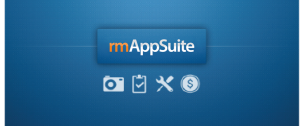 rmService
rmService is a comprehensive work order management app that allows RMO users to create, manage, and resolve service issues from Android and iOS devices, with or without an Internet connection. rmService can be used to:
Receive, add, resolve, and close service issues
View complete work order details
Add/edit/delete notes, links, and user defined fields, including photos
View photos in notes or user defined fields
Track and modify parts and labor
Assign service issues to specific users or vendors
rmInspection
rmInspection enables property management professionals to conduct comprehensive rental unit inspections on a smartphone or tablet, and deliver them directly to RMO in real time. This any-time/anywhere functionality empowers users to promptly address issues and get their rental units back on the market quickly.
Create inspections in RMO and account for the areas/items that must be checked during an inspection (e.g. Kitchen: oven, refrigerator, microwave, dishwasher, cupboards, floors, etc.)
Rate the condition of each item on the inspection list and add notes
Take pictures to document the appearance of each item
Create detailed inspection reports that you can use as evidence in legal disputes/court cases
Record maintenance and cleaning tasks and then turn those items into service tickets
Enter final utility readings
Build an archive of all property inspections
rmCapture lets users take pictures with an Android or iOS device and instantly upload the images to RMO. rmCapture can help you:
Market your available units
Document damages after a move out
Take headshots of residents and prospects
Create history records with photo-specific notes
And much more…
rmAppSuite gives our customers a selection of powerful tools that enable them to engage with Rent Manager while they're on the go, said Tony Little, Chief Technology Officer at LCS. By giving users the ability to complete essential tasks in the field, like scheduling service calls, conducting property inspections, and photographing rental units, we're helping our customers streamline their activities and make the most of their available time.
Download rmAppSuite at no charge from Google Play and the iTunes App Store. For pricing associated with rmService and rmInspection, contact your sales representative at 800.669.0871 or sales@rentmanager.com.
Note: You must be a current RMO customer to use rmAppSuite.