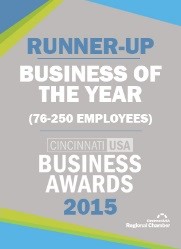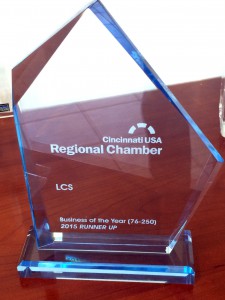 Cincinnati, Ohio (June 10, 2015)-London Computer Systems (LCS), developer of Rent Manager® property management software, was recognized as the runner up for the Business of the Year Award by the Cincinnati USA Regional Chamber.
The Chamber hosted a lunch and ceremony on Wednesday, May 27th, as they announced the winners in eight different categories based on company size. President and CEO of Cincinnati USA Regional Chamber, Brian Carley explains, "The Cincinnati USA Regional Chamber is proud to host the Cincinnati USA Business Awards, a celebration of our region's entrepreneurs and job creators."
In the category of 76-250 employees, 25 companies were nominated for the award and five high-achieving companies, representing a variety of industries, were selected as finalists.
LCS representatives David Hegemann, President and CEO; Brittany Christerson, Sales and Marketing Manager; Erin Hooper, Marketing Project Manager; Rachel Huizenga, HR Manager; Andy Williamson, Director of Customer Support; Lori Weaver, Client Services Manager; and Dave Staun, Business Development Manager, attended the lunch and joyfully accepted the award. "It's a true honor to be recognized for all the hard work our employees do every day," explained Brittany Christerson.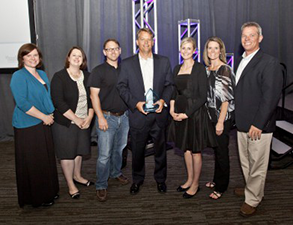 The award, which honors "outstanding performance, economic contributions, and leadership excellence," is among several awards LCS has received and acts as yet another validation that its commitment to customer service and employee satisfaction will continue to propel the company towards an even brighter future.
About LCS
Incorporated in 1988 and headquartered in Cincinnati, Ohio, London Computer Systems (LCS) is a developer of business-critical software technologies used in all 50 states and several markets throughout the world. LCS products include Rent Manager® property management software, Net Dial Tone VoIP telephone systems, and enterprise-level hosting solutions via its Sentry Data Center.
LCS also provides complete network design, implementation, and support services, and custom website development through its Information Technology and Web Design Services divisions. With more than 20,000 users, LCS combines best technology with best practices to create unique, affordable, customer-focused products and services.
For more information about LCS, please call 800-669-0871 or visit LCS.com.