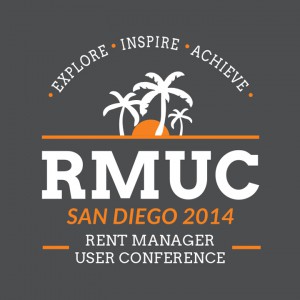 The 7th Annual Rent Manager User Conference has come and gone, but the excitement of the event lingers. As attendees from across the country return home to put their expanded Rent Manager® knowledge to work, we set to writing this recap to give all of our customers the scoop on our RMUC.2014 experiences and takeaways…
We kicked things off on October 13th with Pre-Conference, where participants benefitted from a five-hour hands-on immersion that focused on Rent Manager Xi or Rent Manager 12. Attendees received personal instruction as they worked on everything from account creation best practices, to the proper way to enter financial data like receivables and payables. Pre-Conference has always been the best way to prepare for the RMUC experience, and this year was doubly so.
We followed Pre-Conference with the serious fun of the Opening Reception, held at the Park Hyatt Aviara's Avalon Terrace. An evening of perfect weather, refreshments, and company, we've got photographic proof that everyone had a seriously good time!
October 14th got off to a great start with an al fresco breakfast at the Aviara's Palm Courtyard and the Conference Keynote in the Grand Ballroom. Delivered by David Hegemann, LCS President and CEO, the session shared all sorts of Rent Manager updates, announcements, and insights. Dave also revealed the date and location of the 2015 Rent Manager User Conference during his address….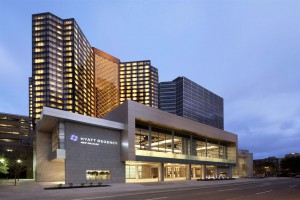 RMUC.2015 will take place October 5-8, 2015 in New Orleans at the Hyatt Regency. Mark your calendars now and get ready to laissez les bon temps roulez (let the good times roll) with us in the Big Easy!
Once the keynote concluded, we jumped into the first of three days of conference sessions, where attendees could join in more than 50 traditional and hands-on courses, designed to help them maximize Rent Manager and their operations. Whether looking to hone in their Rent Manager Xi skills, experience the expanded capabilities of Rent Manager 12, or learn from the featured Business Strategies speakers, session-goers had a multitude of opportunities to expand their software and property management expertise, and make valuable connections with other industry professionals.
It can't be said, however, that the conference was all work and no play… the evening of the 14th culminated in a twilight cruise aboard the 222-ft Inspiration Hornblower. Our RMUC seafarers dined, danced, and diced their way around the gorgeous San Diego Bay on a truly postcard-perfect night.
Back to class on the 15th and 16th, session options included RMXi Intro to Scripting; RM12 Mobile Products; Business Expansion with Rent Manager; Turning Rent Manager into a Revenue Source; and a variety of other courses that were developed to meet the needs and interests of Rent Manager customers. Participants also had the opportunity to meet with RMUC.2014's sponsors, all of which offer specialized products and services for property managers, owners, etc.:
We've been promising all year that RMUC.2014 would be an unforgettable event, and with San Diego in our rear-view and attendee feedback in our briefcases, we feel confident that we delivered on that pledge. This standout gathering of property management professionals is an exceptional experience every year and the entire Rent Manager team is grateful to be part of it. Thank you to everyone who joined us in California, as you made the 2014 Rent Manager User Conference possible!
And the countdown to #RMUC2015 begins in 3, 2, 1…
Hyatt Regency New Orleans Photo Credit:http://bit.ly/1EcVwMo