Spring is an eventful season for the Rent Manager staff, from travelling across the country for industry conferences and trade shows to hosting on-site trainings and user round tables. Plans for this time of year began last November, almost as soon as the team returned from the 2017 Rent Manager User Conference, with budget-planning, event-scheduling, travel-booking, and booth-brainstorming taking center stage. Our goal was to make a big splash across the country in 2018.
With that target in mind, our planning team assembled an impressive list of destinations and a revamped roadmap for the spring trade show season. Rent Manager would be represented at events both new and remembered, but the overarching objective was to put the software in front of as many property management professionals, in as many industry verticals, as possible.
We started the year off at the Louisville Manufactured Housing Show in January and the season didn't slow down until the spring finale: the National Apartment Association's annual Apartmentalize conference. Take a look at some of the places we've been, who we've hosted at our headquarters, and where we've made our biggest impact to-date:
As we wrapped up Spring Trade Show Season, we prepared for the largest multifamily event of the year: Apartmentalize, powered by the National Apartment Association. With an entirely new and improved booth set-up and a full schedule of committee meetings, client and prospect get-togethers, social events, educational sessions, and lots of booth-time, we set our sights on making the most of every possible moment of 2018's Apartmentalize.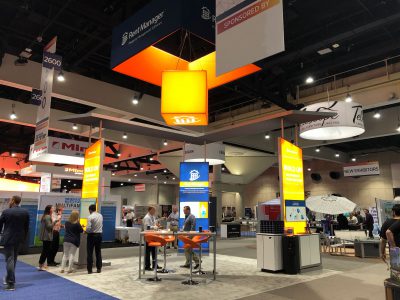 Reimagined Trade Show Experience.
Sometimes it's good to take a quick step back and look at your booth, from the aisles, instead of behind the table. For the 2018 Apartmentalize conference, the decision was made to completely redesign our trade show booth display and enlisted some help from an outside vendor for design and display schematics. This new, high-impact design, complete with interactive elements, cool lighting effects, and a giant logo floating above, all came together to help draw significantly more attention to our booth over previous years, and we didn't stop there!
We upped our giveaway game at the start of the trade show season, adding a variety of high-tech prizes and culminating with our biggest prize at Apartmentalize: a smart home bundle to be given away to one lucky booth-visitor (congratulations again to our winner, Amanda from BSC Holdings). We also doubled-down on staff presence this year, with employees attending the conference from a cross-departmental team of representatives to interact with the thousands of passers-by, connect with current customers, and demonstrate Rent Manager's advanced capabilities to inquiring prospects aplenty!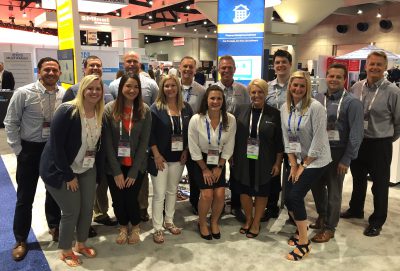 More Sessions.
When you attend an educational conference, you really should take advantage of the opportunities to learn the latest news, best practices, and innovative ideas, right? Right! So, the Apartmentalize team filled their week with lots of learning, from the latest payment methods residents are asking for, to the smart home amenities highest on everyone's radar, or the hottest marketing trends for our industry, there's never a shortage of expert advice to be had at an event like Apartmentalize, and we made a point to capitalize on the opportunities as much as possible.
NAA Committees.
Two Rent Manager employees, Business Development Manager, Abbie Huffman, and Channel Partner Manager, Patrick O'Hearn, are actively involved in NAA committees both locally and nationally, helping to shape the way the NAA maneuvers around topics such as preparing the next generation of multifamily leadership, or discussing how to leverage technologies to best benefit property managers and tenants alike. Stay tuned for updates on these endeavors and follow along as the impact of these groups will is in the coming year!
NAA Excellence Awards
The team wrapped up their week in San Diego in VIP style at the annual NAA Excellence Awards ceremony, where Rent Manager's Abbie Huffman was presented with the National Certified Apartment Supplier (CAS) of the Year Award. Abbie's dedication to the property management industry and its associations is second-to-none. We are very proud of her efforts and the inspiring results they realize within the NAA and beyond.
It's the amazing face-to-face interaction that we experience at in-person industry events like these that drive the continual growth and development of the Rent Manager platform. Hearing from our customers, meeting new faces, solving everyday operational headaches, and enabling our users to reach their own goals make the long flights, late nights, and tired feet completely worthwhile.
As we reflect on another whirlwind trade show season, we turn our attention to the 2018 Rent Manager User Conference, our favorite event, and one that will be here before we know it! We've set our sights on making this year's event in Amelia Island the biggest and best RMUC to-date, but most importantly, we're aiming to deliver a premiere educational event. Take a look at everything we have in store for RMUC.18 with a visit to Conference.RentManager.com.