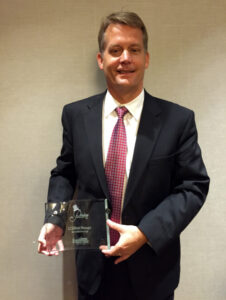 Cincinnati, Ohio (November 12, 2015) – London Computer Systems (LCS), developer of Rent Manager® property management software and other business-critical technologies, is the winner of the 2015 Prestige Awards for Best Mobile Site or App, presented by the Greater Cincinnati Northern Kentucky Apartment Association (GCNKAA).
The Prestige Awards are a region-wide competition that culminates with an elegant awards ceremony to honor outstanding local businesses in the property management industry. It had been 10 years since the last gala took place, making this year's event a highly anticipated production.
Rent Manager was nominated for four Associate Member Categories including Best Associate Company, Best Associate Internet Site, Best Mobile Site or App, and Best Social Media Plan. As a result of these nominations, Rent Manager swept all four categories as finalists – an honor only awarded to the top three companies in most categories.
On November 6th the awards ceremony commenced, bringing more than 800 industry professionals to the Hyatt Regency in downtown Cincinnati. The winners in each category were announced that evening, where finalists in each category competed for the grand title. LCS/Rent Manager is proud to have been awarded the Best Mobile App, for Rent Manager's mobile apps, and is honored to be recognized as a leader in the region's property management industry.
Rent Manager's apps include: rmInspection, rmService, rmPayment, and rmCapture which provide a wide range of mobile capabilities for property managers, including on-the-go inspections, work orders, and payment processing applications that link directly to Rent Manager.
The capabilities of the apps have revolutionized the way Rent Manager users run their business with the new-found ability to update information, in one place; streamline their daily tasks; and save hours upon hours of unnecessary work – all thanks to the functionality of the mobile applications.
The team at LCS and Rent Manager would like to extend their gratitude to the GCNKAA for the production of such a wonderful awards ceremony and congratulations to the fellow Prestige Award Winners.
About LCS
Incorporated in 1988 and headquartered in Cincinnati, Ohio, London Computer Systems (LCS) is a developer of business-critical software used in all 50 states and several markets throughout the world. LCS products include Rent Manager® property management software, rmVoIP telephone systems, and enterprise-level hosting solutions via its Sentry Data Center.
LCS also provides complete network design, implementation, and support services, and custom website development through its IT Services and Web Design Services divisions. With more than 20,000 users, LCS combines best technology with best practices to create unique, affordable, customer-focused products and services.
For more information about LCS, please call 800-669-0871 or visit LCS.com.