Imagine having a resident you've been struggling with for months. After giving them sufficient warnings and following appropriate protocol, you had no choice but to evict them. Angry, they visit your leasing office to see if they can avoid eviction. The resident raises their voice and—irritated and frightened by the aggression—one of your employees raises theirs. Within moments, the resident lunges at your employee…
As scary or unlikely as this may sound for your property, workplace violence is a potential reality for everyone in the rental housing industry. So, how can you take steps toward preventing aggression like this or stop it once it begins?
Why Should Safety be a Concern in the Housing Industry?
Handling rent- and lease-related issues with residents can lead to tense situations, as every property management professional knows. There are also risks involved with showing vacant units. And though crime is a reality in virtually any profession, it manifests differently in the housing industry.
Within the past five years, discussions about the safety of housing industry professionals have taken the center stage. Nearly two million workers in the United States have reported being victims of workplace violence. The Occupational Safety and Health Administration (OSHA) defines workplace violence as "any act or threat of physical violence, harassment, intimidation, or other threatening disruptive behavior that occurs at the worksite."
Some of the biggest risk factors for workplace violence are working alone, working with money, and working late at night or early in the morning. Property management employees can be especially vulnerable because they are exposed to many of these risk factors every day. Workplace violence within the property management industry is often caused by a person who has a relationship with someone in the office—whether they are a tenant, relative, friend, etc. Placing the proper safety precautions in place could help limit the amount of violence you and your staff could experience.
Proactive Steps for Preventing Aggression
Not all crime or violence can be stopped before it happens, but creating a positive environment that works to eliminate tension at your property is possible. Tenant screening is a practical way to help avoid potentially problematic residents. Screening helps to mitigate risk and ensure the safety of your property's employees and the residents within your community. Beyond the screening process, here are few more steps you can take to prevent tense situations before they arise.
Provide Training for Your Team
Keeping your employees up to date on how to handle personal safety issues through regular staff trainings can help them recognize and possibly avoid potentially dangerous situations. Hiring instructors with police and security backgrounds or inviting local law enforcement personnel to teach classes is a great way to integrate training into your property processes. You can incorporate these benefits as part of your community events by offering self-defense or crisis-training classes to your residents.
Have a Plan for Showings
When showing a vacant unit, there are two very common techniques to ensure safety. The first is requiring the prospect to leave their ID with another employee in your office or secured in a safe until the showing concludes. If anything is to occur, the prospect is aware that you have their identity and they can easily be reported. The second technique would be communicating with another employee in the office when you are beginning the tour and when you are ending it. This can be done by walkie-talkie or by phone, so the prospect knows that someone else is aware of your location. If you don't feel comfortable with the prospect having knowledge of your communications, this can also be done via text message.
During a tour, the leasing agent should always keep their back to the entry point. Allow the prospect to venture into the unit and open any cabinets or rooms on their own. Stand in the entry to not only protect yourself, but answer any questions they might have.
Once a prospect becomes a tenant, it's best to make sure you are never alone with them during a situation that could become tense. When giving eviction notices or discussing missed rent, make sure someone else is with you. This helps to protect both you and the tenant.
When going back to the basics of crime and violence prevention, maintaining proper lighting, functioning locks on windows and doors, well-kept landscaping, and safety-minded office protocols can help eliminate problems before they occur. It's also a great idea to have a plan in place for your property in case of a large-scale personal-safety emergency—just like you would in case of a fire or severe weather emergency.
In Case of an Emergency
No matter how prepared you are, emergencies still happen. It's important to show your employees how to avoid tense situations, but it's crucial to have protocols in place for how preventing aggression and/or escaping from unsafe circumstances. Emphasize the importance of self-awareness, commonsense, and preparedness with your staff. If you watch yourself and those around you carefully, you may be able to detect when an attack is about to occur. For example, body language can help you tell if an individual is showing signs of an imminent attack:
Direct, prolonged eye contact
Red face
Hands pumping
Kicking ground
Finger pointing
Threats with fist
Challenging, yelling, cursing
Lips tighten over teeth
Eyebrows drop
Target glance
Color drains from face
Head down
Verbalizing stops
Lowering the body and leaning forward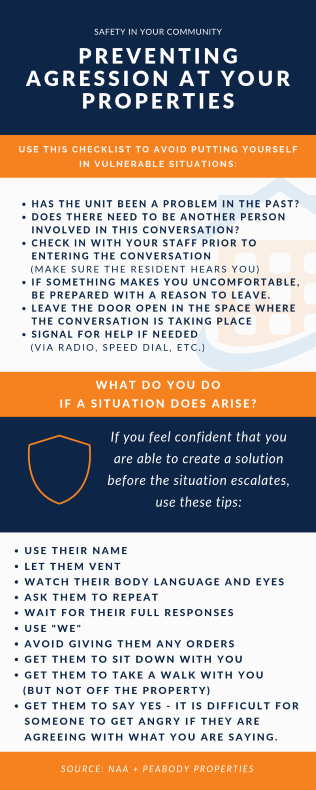 Create a personal plan for yourself and your employees to avoid situations that could make you vulnerable. Although tense situations can sometimes be unavoidable, proper preparation and awareness of how preventing aggression can help your employees and residents remain safe and calm.  Print out the infographic below to help keep you and your staff aware and prepared.