Whether you're an old pro, or new to the field, chances are you've had a mentor during your professional career. In an industry defined by its commitment to community, the inclination for property management professionals to advise those around them is ingrained in nearly everyone you meet. Taking care of others and preparing them for their next step can truly make all the difference in this field.
Preparing Property Management's Next Crop of Leaders
It should be no surprise, then, that mentoring relationships tend to emerge in nearly every facet of property management. Sometimes these relationships are more official: in the service and maintenance sectors, we have professional apprenticeships. In corporate settings, interns and co-ops come flooding in at the start of each semester. But sometimes the relationships happen more organically. More often than not, they blossom because of participation in local trade and industry associations.

But, finding a career mentor works best if you're already in the field or otherwise connected to the community. A huge question facing the industry today is how to attract more talent to fill the roughly 11,000 new property management jobs created each year. How do we find the next generation of mentees to shape and mold our industry for the future?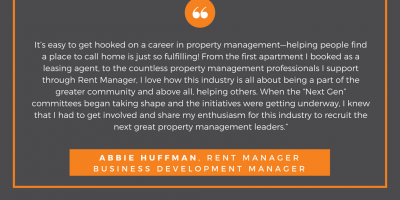 Two industry heavy-hitters, the National Apartment Association (NAA) and the Institute of Real Estate Management (IREM) are taking steps to build and nurture the next crop of movers and makers. Their "Next Gen" initiatives have already found tremendous success by increasing the exposure of our industry's need for more talent. Thanks to these organizations' ramped-up efforts over the coming months and years, we're sure to see numbers continue to grow.

Once you're hooked on the advantages of a career in property management and you've joined an association or two, be sure to check out the educational options available! From industry-leading credentials to localized networking roundtables, there is something for everyone to aid in furthering your knowledge and increasing your industry clout.