A recent study conducted by Software Advice, a provider of detailed rental property software reviews, comparisons, and research, analyzed the likeliness of U.S. renters to consider living in a micro-apartment. These apartments, typically no more than 400 square feet, have been embraced as an efficient solution for those who cannot afford high rental prices in popular urban areas.
The 2014 Renters' Trends and Preferences Report gathered just under 2,000 responses from random customers who would consider renting a micro-apartment in the United States. The study revealed that 31% of those surveyed would consider renting a micro-apartment.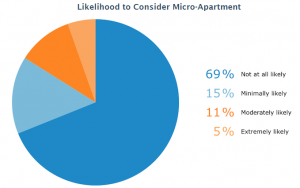 Real Estate veteran and broker Christian Nossum says the reasoning behind the small number is because micro-apartments are designed with a specific demographic in mind.
"It's a pretty small demographic that [a micro-apartment] would work for, and within that, it's a small subset of that demographic [who] would actually live in it," he says.
And what demographic is he talking about? According to the study, the two most likely demographics to consider living in a micro-apartment are 18- to 34-year-olds and 45- to 64-year-olds.
Most Sought-After Features in Micro-Apartments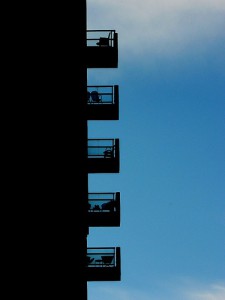 The report also analyzed what these potential renters would prefer most in the dwelling. Overall, the favorite features were ample counter space and a patio. 58% of women also wanted a large closet.
This selection of features did not surprise Nossum.
[Kitchen counters] might be the only flat surface in the place besides maybe a coffee table, so they're using that for multiple purposes, like charging [their] computer or phone, he says.
Patios also represent a place to escape from the small environment and make the space feel larger than it is.
Another important factor in considering a micro-apartment was the proximity of the residence to certain establishments. Grocery stores and bus or train stations topped the list, both being important features to 29% of those surveyed. 23% preferred immediacy to cafes or restaurants, and 19% preferred having shopping centers nearby.
The most motivating factor, however, is price. 67% of respondents said they would consider living in a micro-apartment in order to save money on rent. Finally, 32% said they would rent one in order to live in a desirable location.
In conclusion, the desire to rent micro-apartments may be small, but swelling rents in urban areas, the increasing density of populations, and the growing class of young renters should ensure that these types of apartments will continue to have a place in most major cities.
Managers can better market these micro-apartment properties by emphasizing the useful features, valuable amenities nearby, and reasonable rent costs.
Photo credit: frozenchipmunk / Foter / CC BY