Staying on top of the inquiries that flood your inbox and keep your phone ringing off the hook each week can be a daunting task when staring down a list of vacancies on your rent roll. Overworked and overwhelmed leasing agents barely have time to manage a packed schedule of showings, let alone chipping away at the mountain of leads that require follow-ups. But a lag in your lead response time can mean the difference between a full building and another month of low occupancy so your besieged staff marches on.
Now, step into the shoes of your prospective tenants for a moment. They also spend most of their waking hours making a living. So, apartment searching during the 9-to-5 is likely not an option for them. Meanwhile, your leasing agents spend their days in the office, feverishly following up with aging leads that came in 10 or more hours before they clocked in this morning.
With the inherent ease of online inquiry forms and applications, lead automation solutions are increasingly integral to your success. Happily, Rent Manager partner, Tenant Turner, has taken the process of lead management and scheduling out of your weekly workload by automating and streamlining the entire process for you and your prospects.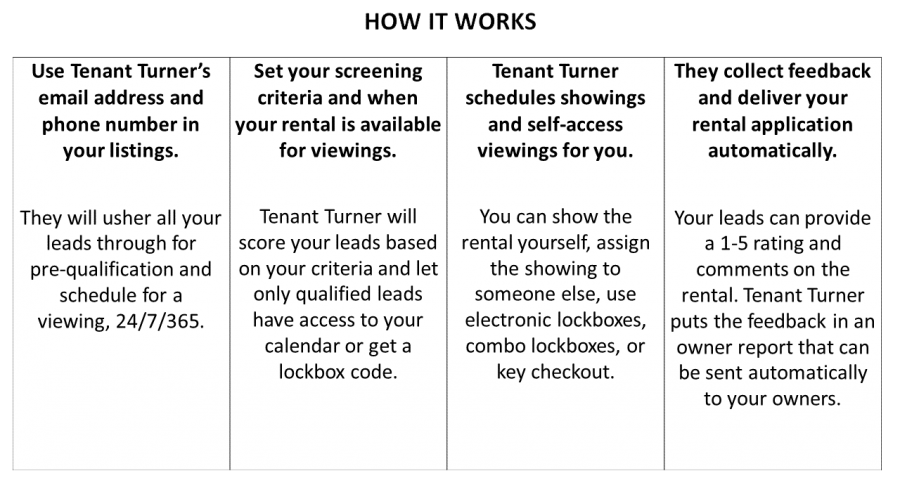 Reply to inquiries instantly to keep your leads simmering, rather than cooling off until your staff has an opportunity to follow up personally. You can also outsource your phone service to Tenant Turner's call center, with evening and weekend hours available to manage your phone traffic.
Set specific criteria per property or unit to screen leads as they come in, prioritizing your leads automatically before allowing them to schedule a showing. Set move-in date requirements, create pet criteria, income measures, and more, to ensure that the leads that do come through are the most likely to lease.
Allow your prospects to self-schedule a showing when it is convenient for them and if you're using the optional lockbox feature, your agent doesn't even need to be present! Once the appointment is made, a one-time-use code is generated for the prospect and programed to be active during their scheduled window.
From automated responses and call center answering service, to self-scheduling and agent-free lockbox showings, Tenant Turner has everything you need to take the strain our of your leasing process. Learn more at tenantturner.com, or log into your free Rent Manager University account to view their Tech Tuesday webinar!