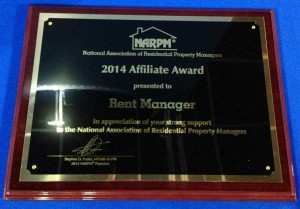 We are pleased to announce that Rent Manager has been selected as the 2014 Affiliate of the Year by the National Association of Residential Property Managers (NARPM®)!
NARPM, a permanent trade organization for the residential property management industry, currently represents over 4,000 members comprised of real estate agents, brokers, managers, and their employees. Their mission is to support the professional and ethical practices of rental home management through networking, education, and design.
Chosen by NARPM members, the Affiliate Award recognizes an Affiliate Member that has demonstrated an exceptional commitment to furthering the goals of the residential property management industry.
Rent Manager has been a fantastic National Partner for NARPM, said Andy Propst, NARPM National President-Elect. In 2014, they not only supported our organization as a Platinum Sponsor, they were also involved in numerous educational workshops, both online and at Regional Conferences. Rent Manager is one of only a few of our hundreds of our national affiliates that attended all of our Regional Conferences and our National Convention. Rent Manager truly has helped NARPM offer more value to our members with their support in 2014.
This national award is earned via the activities and support an affiliate provides to NARPM National. The application is based on a point system, awarding points for categories such as years with NARPM, chapters sponsored, regional conferences attended, electronic advertisements, etc.
We are honored to have received the 2014 Affiliate Award, said Brittany Christerson, LCS Sales and Marketing Manager. We share NARPM's commitment to educating and connecting with property managers in order for them to grow their operations and succeed in the property management industry. Rent Manager couldn't be more pleased with our relationship with NARPM!
The Rent Manager team is thrilled to be NARPM's Affiliate of the Year, and looks forward to our continued efforts to advance the property management industry!