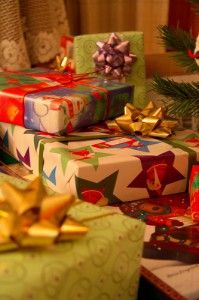 The holidays can be a very nostalgic, enjoyable time of year, but they can also be very stressful and exhausting. If you'd like to lift some of that burden off of your residents' shoulders this year, we've come up with a few ideas to help your tenants during this busy time, and make them wish the holidays would never end.
Gift Wrapping Station
Few holiday activities are as time-consuming as wrapping presents. So why not make the process easier on your residents by offering a gift-wrapping station that supplies the finishing touches they'll need to give the perfect gift. All you need is a spare table (or two) and some wrapping paper, tape, ribbon, bows, and tags. This is an inexpensive way to spread goodwill throughout your residence!
Hot Cocoa Bar
Although many of you are fortunate enough to avoid the brutal cold and snow of northern winters, everyone can appreciate a cozy mug of good ol' hot chocolate! And what better way to spread some holiday cheer than with a hot chocolate bar for your residents to enjoy? Let your residents to customize their cocoa by supplying some extra toppers, like marshmallows or peppermint. Here's a simple recipe for an easy and delicious pot of hot chocolate:
1 ¼ cups cocoa powder
3 Tbsp vanilla extract
1 ¼ cups granulated sugar
1 cup water
1 gallon milk
Mix cocoa, sugar, and water together and bring to a boil. Then add milk and vanilla. Heat while stirring until ideal temperature is reached.
*Optional toppings: caramel sauce, marshmallows, peppermint, peanut butter chips, whipped cream
You cannot miss with a tasty, toasty offering like this!
Dear Santa…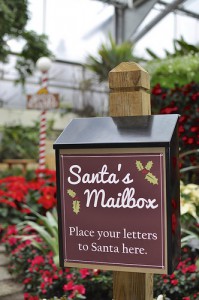 What would the holidays be without jolly Saint Nick? But we all know this is a busy time for the big guy, and he won't be able to see every child this season. There is one way kids can make sure that Santa is aware of their holiday wishes… letters! Set up a spot in your common area for kids to come and drop off their letters to Santa. You could even set up a station that has everything they need to write their letters, including paper, writing utensils, and envelopes. Let the young tenants at your property know that you're happy to put them in touch with Kris Kringle this year!
Holiday Food Drive
A great way for you and your residents to help the less fortunate in your area is to set up a food drive for organizations in need of donations for the holidays. You can even arrange a raffle to give your residents a little more incentive to participate in the giving event. For example, for every item that is donated, that resident's name will go a drawing for a grand prize… whether it is a $25 gift card, $100 off the next month's rent, or a heaping plate of Christmas cookies. Whatever you plan, an event like this will do great things for the comradery of your community and for those in need in your own backyard.
Photo credits:
Mulad / Foter / CC BY
Holly Leighanne. / Foter / CC BY
Scott McLeod / Foter / CC BY