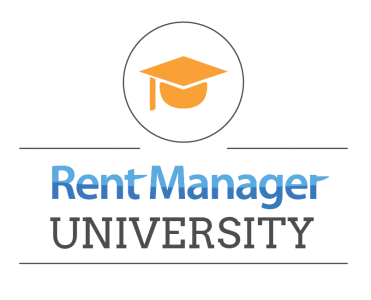 We've always been passionate about educating our customers on the best practices and unique functionality of our property management software. That's why we're thrilled to share with you our newest, most intuitive training experience yet: Rent Manager University (RMU).
Every single Rent Manager customer will be able to experience the vast training options with RMU, as your first account is FREE.
What is Rent Manager University?
RMU is an all-inclusive and continuously expanding training portal, jam-packed with many courses, instructional videos, and guided self-learning opportunities. All conveniently packaged behind one login, this robust training platform is the same program we use internally to train our new hires on the software (that's some insider treatment, if we do say so ourselves).
Inside RMU, you'll see an entire catalog of Rent Manager 12 training courses, ranging from basic portfolio setup to specifics on how to file your 1099s during tax season. Along the way, you'll take various assessments to ensure you're not just hearing the information, but fully grasping the concepts. We're also regularly adding new material to RMU so your opportunities to learn are virtually endless.
RMU Plus
As far as our first impressions, RMU has completely turned our internal onboarding on its head. New hires are benefitting from the program, as we're able to log all of our users' scores and progress along the way. This is possible with our paid version of the program, RMU Plus. With this upgrade, everything is saved under each unique login, showing clear record of how much time has been spent on the learning modules and their associated assessment scores.
Imagine the possibilities, then, of utilizing RMU to train your next leasing consultant or property manager. With the added ability to include custom training that's specific to your company with RMU Plus, you can bundle all of your onboarding materials into one RMU educational experience. Your leasing reps, property managers, and service team members will attain completely Rent Manager-certification in no time.
What good is your property management software if your team doesn't know how to use it? RMU ensures you never have to ponder that question.
Discover all the ways Rent Manager University can benefit your business. Contact your Sales Representative today at 800-669-0871.