Brimming backpacks, suntanned skin, and t-shirts bearing school pride. It can only mean one thing: college students have returned from their summer vacations and are moving back to town.
As you know, it's important to stay in touch with your residents by offering some activities and perks to help promote a sense of community. Here are a few ways to show your school spirit to get your younger tenants involved and excited to call your property home:
Move-in Packet Sure to Please
A move-in packet is one of the easiest ways to leave a good first impression on your residents and let them know you care about their needs. Items that all of your tenants will benefit from include rent- and other fee-reminders, a calendar of future property events, and bios of your employees. People like to know who they may be interacting with and who to go to if they need assistance. For your college students, you can include things like a school events calendar, a printed bus schedule, and a coupon book for local stores and restaurants.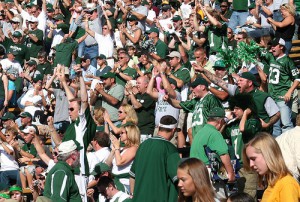 College Game Day
Saturday afternoons in a college town are all about football! While many wake up early to tailgate and cheer on their team at the stadium, some students find themselves live-streaming from their computers. If only there was a place they could go watch the game and enjoy the company of other students doing the same…
Yes, we're talking about the property clubhouse! Having a game-day viewing party is a great way to get residents out and interacting with each other. All you need is a television, maybe some popcorn, and don't forget your foam fingers!
School Spirit Door Decorating Contest
What better way to get residents involved than a little competition? Tenants, college students especially, will jump at any opportunity to compete when a prize is at stake. One fun contest idea would be to have your residents show their school spirit by decorating their front doors. Prizes could vary from tickets to the next home game, a gift card, or even a one-year subscription to Netflix.
Ramen Noodle Dishes to Liven Up their Kitchen
Let's face it, no one eats Ramen noodles because they're delicious. So pass these prep suggestions along and before you know it, your residents (and their stomachs) will be thanking you!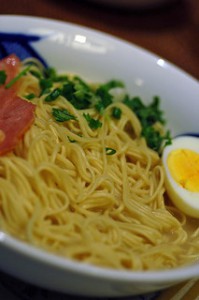 Pour heated marinara sauce over prepared Ramen noodles for a play on spaghetti
Heat your favorite Alfredo sauce, stir in diced ham or cooked chicken, and add the mix to your noodles
Stir-fry a package of frozen vegetables with 4 ounces of cubed firm tofu. Stir in boiled Ramen and season with 1 tablespoon each of soy sauce and lime juice.
Add a chicken-flavored seasoning packet, 1 tablespoon butter, and 2-3 tablespoons milk to a package of boiled drained Ramen noodles for a creamy side dish.
Ramen noodles and… chocolate? Hey, we'll try anything! Boil Ramen in 2 cups of water with a cup of brown sugar added. Pour off most of the water, then stir in a teaspoon of vanilla and a cup of chocolate syrup. Pour onto a serving plate and sprinkle powdered sugar on top. Wash down with a tall glass of milk.
You can find other Ramen noodle recipes and ideas here.
Photo credits: Wesley Fryer / Foter / CC BY-SA
Monica's Dad / Foter / CC BY
tsuihin – TimoStudios / Foter / CC BY-SA