Rent Manager® exists to make your job easier and your business more profitable. There's no shortage of ways the software can help your operation, but we wanted to bring your attention to the following Rent Manager resources that are particularly valuable for property managers of every segment and size…
Top 4 Rent Manager Resources
1. Report Automation
Did you know that Rent Manager Online (RMO) can automatically take care of your batch reporting activities?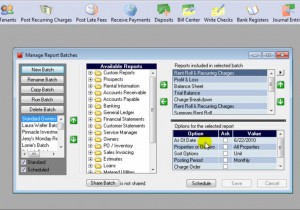 RMO's Report Automation feature systematically generates and delivers designated report batches based on a schedule you set. Let RMO run your accounting and property-management reports while you're handling the other essential responsibilities of your job, and the completed statements will be delivered to your inbox as soon as they're complete.
And because Report Automation uses our servers to compile the reports, your IT systems won't be bogged down while your statements queue up.
Getting started with Report Automation is easy:
I. Confirm your user permissions
II. Automate your report batches
a. Schedule the run date, time, and duration of your reports
b. Enter the email options for each batch
III. Check your inbox, your reports will be delivered according to the days/times you established in RMO
For step-by-step instructions on how to set up Report Automation for RMO, watch our Report Automation training video here.
2. Phone Broadcast
Save yourself a whole lot of time (and monotony) by eliminating individual resident, owner, and vendor phone calls. Rent Manager's integrated Phone Broadcast service lets you communicate important announcements in a seriously fast and efficient way.
When you perform a Phone Broadcast, Rent Manager sends your outgoing message to all of the phone numbers on a predetermined contact list. It also automatically documents the broadcast for each listed phone number in your Rent Manager records. This one-of-a-kind system enables you to:
Record and send messages to selected phone numbers, either after the broadcast is initiated or at a scheduled time.
Use shortcut and filtering methods within Rent Manager to quickly select phone numbers within Customer, Prospect, Owner, Vendor, and Property records.
You can also manually add phone numbers to the broadcast list, including numbers not entered in Rent Manager.
Check the status of current and past Phone Broadcasts, or cancel a scheduled broadcast.
Manage, edit, and save your broadcast phone numbers.
Click here for additional Phone Broadcast details.
3. Resident Screening
Improve your operation/s bottom line by quickly converting qualified applicants to residents, while reducing skips and evictions.
Rent Manager's relationship with AmRent enables you to do just that, while also eliminating many of the tedious and time-consuming aspects of processing rental applications. Further streamlining the screening process, AmRent's screening capabilities are fully integrated into Rent Manager, enabling you to evaluate prospective renters in a matter of minutes, without leaving the program.
To request more information about resident screenings in Rent Manager, click here.
4. rmAppsuite
rmAppSuite gives you tools to simplify away-from-the-office tasks, and use Rent Manager Online like never before. These Android- and iOS-compatible mobile apps work directly with RMO to make the most of your time in the field! rmAppSuite currently incorporates rmService, rmInspection, and rmCapture.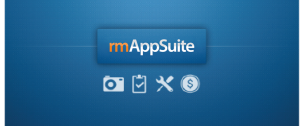 rmService
rmService is a comprehensive work order management app that allows RMO users to create, manage, and resolve service issues from their smart devices, with or without an Internet connection. rmService allows you to to:
Receive, add, resolve, and close service issues
View complete work order details
Add/edit/delete notes, links, and user defined fields, including photos
View photos in notes or user defined fields
Track and modify parts and labor
Assign service issues to specific users or vendors
rmInspection
rmInspection enables property management professionals to conduct comprehensive rental unit inspections on a smartphone or tablet, and deliver them directly to RMO in real time. This any-time/anywhere functionality empowers users to promptly address issues and get their rental units back on the market quickly.
Create inspections in RMO and account for the areas/items that must not be overlooked during an inspection (e.g. Kitchen: oven, refrigerator, microwave, dishwasher, cupboards, floors, etc.)
Rate the condition of each item on the inspection list and add notes
Take pictures to document the appearance of each item
Create detailed inspection reports you can submit as evidence in legal disputes/court cases
Record maintenance and cleaning tasks, and then turn those items into service tickets
Enter final utility readings
Build an archive of all property inspections
rmCapture
rmCapture lets users take pictures with an Android or iOS device and instantly upload the images to RMO. rmCapture allows you to:
Market your available units
Document damages after a move out
Take headshots of residents and prospects
Create history records with photo-specific notes
And much more…
You can download rmAppSuite at no charge from Google Play and the iTunes App Store. For pricing associated with rmService and rmInspection, contact your sales representative.