Rent Manager® provides more than 250 built-in reports to provide valuable insights into your business. These reports examine everything from the financial status of your portfolio to vacancies, charges paid, service issues, prospects, rent roll, leasing, and more.
If, however, you need a report that doesn't currently exist in the program, or if you'd like to customize a report to meet your operation's needs, you'll want to get to know the Report Writer module! Rent Manager's Report Writer helps you produce flexible, feature-rich reports, fast. With a few simple clicks, you can quickly create property, tenant, prospect, and more reports tailored to your exact requirements.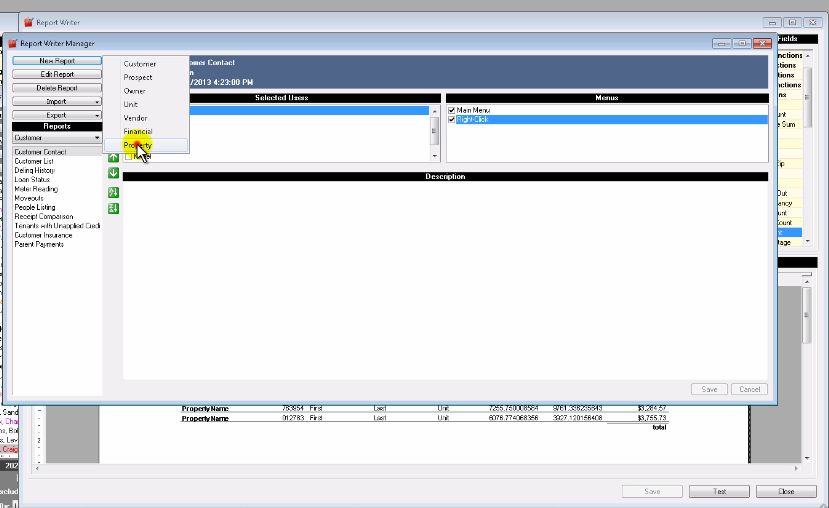 How to Use Rent Manager Report Writer
To create your own customized reports in Rent Manager, go to Reports > Report Writer > Report Writer Manager. From here, you'll choose to create a new report that focuses on properties, customers, prospects, rental units, vendors, or owners. You can also create financial reports that focus on general ledger accounts. You can even download one of our premade reports from the Online Template Library and edit it.
Once you have created Report Writer reports, you can always return to Report Writer Manager to edit them as necessary. Easily tweak an existing report by adding columns, adjusting margins, changing the orientation, and sorting; using RMScript syntax; and more.
To see the capabilities of Report Writer first-hand, click over to our Training Video library and watch the Report Writer webinar (Recorded Webinars > Report Writer). This session will help you with the basics of the module. Then, you'll be on your way to becoming a report authority!
*The Report Writer feature set is available to all Rent Manager Online (RMO) users, and is a separately licensed module for Rent Manager Enterprise users.