This month I sat down with one of our lead Rent Manager® developers, Jason Meyer, who's been with London Computer Systems (LCS) for six years.  Jason dishes on what it's really like to work for the company behind Rent Manager.
What is your favorite part of your job?
Honestly, my favorite part would probably be that it's not really a job to me. I get paid to do the exact same thing I do for fun at home. Granted, I have to get up a little bit earlier, but that's a small price to pay. Also, it's pretty amazing to be developing complex portions of the software and have the ability to watch everything fall into place.
What do you like about working at LCS?
It's truly the people I work with every day. I can develop software anywhere, but there's something about LCS' hiring process that results in onboarding genuinely good people. Once a month, 20 to 30 people from the office get together to play board games all day—late into the night most of the time. We're always battling each other in games like Battlefield, Counter Strike, and Starcraft. LCS' social planning group sets up Happy Hours, Reds games, and even weekend paintball so it's easy to see why this is a great place to work.
What has been your biggest success while working at LCS?
I have to say my greatest accomplishment is taking over our ePay processing feature. It was written a year before I started working at LCS, and over the course of my first two years here, I was slowly given more responsibility until I ultimately became the lead developer maintaining the feature. In 2012, I was transferred from the RMXi development team to the RM12 team to write the ePay module for the new software from scratch. Now ePay processes millions of dollars in rental transactions for our customers on a monthly basis and is an essential part of our customers' businesses. Knowing that I had a large role in making ePay a successful feature for our customers is extremely rewarding.
Do you have any specific work goals for 2015?
As a developer, my goal is always to continue to learn and grow, so the same goes for 2015. I think a developer who stops learning new methods or refuses to try things differently will quickly become obsolete. We currently have an employee-run Technical Book Club in which a handful of developers, QA, and some support members get together once a week during lunch and discuss a couple chapters from the book. We've previously read The Pragmatic Programmer, Refactoring: Improving the Design of Existing Code, and The Mythical Man Month. After each book, we hold a poll to determine the next book to read. These are open to any employee, which really helps interdepartmental communication on how we work on new features for our customers.
Outside of work, what do you enjoy doing most?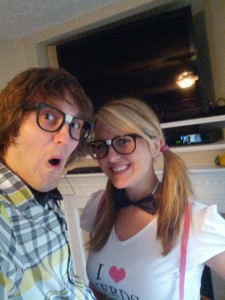 I'm lucky enough to have a beautiful wife, Lauren, with whom I just celebrated our 4th anniversary, as well as an insanely adorable 15-month-old son, Mason, who can be quite a handful at this stage. The majority of the time we are outside chasing him around as he plays with the neighborhood kids. I'm currently a member of the Google Developer Group of Cincinnati, and we get together throughout the month to work on Android development pet projects and learn new practices.
I also love trying new craft and microbrew beers, which Cincinnati has a growing abundance of. Generally after the wife and son go to bed, I can be found downstairs in the basement working on my man cave, or burning the late night oil playing video games with people I'm going to see in a few hours at work.
Anything else you'd like to add?
I'm really excited to have been selected for the fourth year in a row to attend the Rent Manager User Conference, which will be held in New Orleans this October. The User Conference is always awesome to attend as a developer because it gives me an added chance to engage with our customers face-to-face. If you're coming to the User Conference this year, definitely come find me!  We can talk about video games, life as a developer, or exchange notes on favorite beers (IPAs all the way).
It's employees like Jason that make Rent Manager one of the strongest accounting, work order, and overall property management solution in the industry. I hope you had time to meet Jason face-to-face this October at RMUC.15, and experience for yourself what a friendly, inspired, customer-driven person he truly is.