This week we have a special treat on the blog. Our guest writer Bryn Huntpalmer is here to share some great insights from the inspiring Modernize, where you can find home ideas that can transform any space into a dream retreat. Without further ado, here are 5 fantastic DIY bathroom hacks for renters.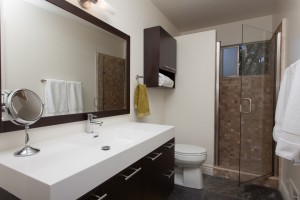 Decorating a rental can be difficult with strict lease agreements and the looming threat of a forfeited security deposit. With so much of the space predefined by permanent fixtures, awkward storage and varying color schemes, renters can be left feeling like they're living in someone else's place. Since the bathroom is a usual point of frustration for decorating and remodeling, here are some bathroom hacks that can make your space more inviting and stylish without risking your deposit.
1. Hang A Stylish Mirror
An easy and cheap update for your bathroom is an over-the-counter mirror. If you're lucky enough to have a mirror that's simply hung, rather than installed, you can easily swap it for a new look. Framed mirrors can give a modern feel and add personal style to any bathroom. If your mirror is installed, ask your landlord if you can update it by adding a frame. This simple hack will make a big difference without hurting your wallet.
2. Lay Outdoor Deck Tile to Cover a Bathroom Floor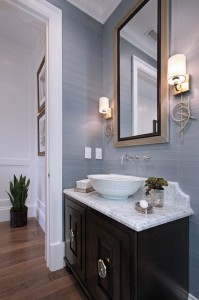 Bathroom floors are usually a difficult hump to get over when updating your rental space. An easy way to mend this problem is by adding temporary tile on top of the floor. Emilie, a home renter interviewed by Apartment Therapy, added teak outdoor deck tile on top of her white tile. Instead of worrying about custom cutting each tile to fit on top of her flooring, she filled the hard-to-fit areas with black river rocks, which, as Emilie explains, "Creates a spa-like feel in the bathroom."
3. Change the Light Fixture
Sometimes all a bathroom needs is new lighting. After checking with your landlord, try updating the light fixtures. This allows you to add some personal style without compromising the structure of the space. To avoid a major project, work with the lights that are already installed. If there's wiring for sconces (ornamental brackets), like in the picture above, update sconces to match your taste or take advantage of existing wiring for an overhead light by adding your own. When working with pre-existing wiring, updating light fixtures is a breeze. If your landlord is hesitant about changing the fixtures, consider changing the bulbs instead. Old bulbs often don't provide enough light in a small bathroom. Reach for LED bulbs or bulbs with Energy Star ratings to save on your monthly bills.
4. Give Yourself Extra Storage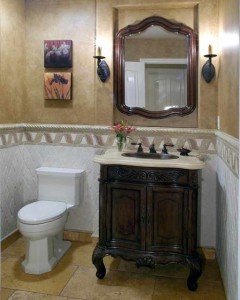 Who doesn't like a clean and organized bathroom? Unfortunately when renting you can't choose your bathroom vanity. This piece of furniture may be lacking drawers or even under-the-counter space, but don't give up hope! To combat your less than optimal organization, hang white IKEA spice racks on the wall to hold all of your bathroom supplies. At only $3.99 per rack at IKEA, these are a steal! Take your storage to the next level by painting the racks to match the colors of your bathroom. Once hung, each rack will hold about 6-8 items (each item the size of an aerosol can). Your bathroom will look neat and tidy within minutes.
5. Make It Homey By Hanging Art
You can tell you're in a rental when the walls are left bare and lifeless. Even though it may make sense not to create nail holes if you're only staying in a place for a short while, personalized wall art can make a big difference in your bathroom. A few intentional pieces of art hung above the toilet or next to the vanity can make your space feel homey and inviting. Find art that brightens up your bathroom and adds sophistication. Also make sure the pieces you hang are suited for humid areas. One word of caution – don't overdo it. Adding a few small paintings or framed prints will be enough to do the trick. You can also coordinate the art with your shower curtain for an added touch.
For more bathroom ideas check out Modernize.com!