No one likes having to be the bad guy when trying to collect on tenants' bounced checks. However, it's a task that goes with the territory of being a property manager.
One way to make it a little easier is to have your policies and procedures for bounced checks clearly outlined in your rental agreement. This way you can point directly to the lease and let the NSF Check Clause do the heavy lifting. The renter did, after all, sign and agree to the contents of the contract.
Let Them Know About the Bounced Check(s)
The first step when you discover that your tenant had insufficient funds is to notify them of the issue. Sending this letter via Certified Mail is a good idea so that you have proof the renter actually received notification should you have to go to court.
If your lease has a bounced check clause, include and specifically highlight that portion so the tenant is clear about their offense and the steps they need to take to resolve it.
Even if your renter calls you first to inform you about their bounced check, still send something official to them in writing. Don't fall victim to sob stories. Be sensitive, yet firm. Don't send a message that you'll easily bend rules should it happen again. And don't let them talk their way out of being responsible for their actions. Keep track of the dates, times, and topics of all communications, written and verbal in the event you need to head to court. Be sure to include the check number, the bank from which the check was written, and the total amount due including the returned check fee. You'll also want to let them know the amount of time in which they have to respond before you proceed with legal action.
What if They Refuse to Pay?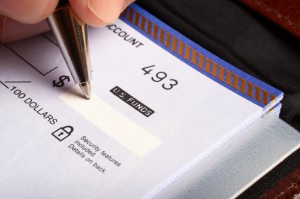 If they refuse to pay the amount due, first check your state regulations, as they tend to vary, and make sure you act in accordance with them. Contact their bank daily or weekly to see if there are funds to cover your check, since they may have made a recent deposit. Banks sometimes do what's called an enforced collection. This is where they'll hold the bad check and the next deposit made into the account will go directly to you. Ask to see if this is available.
Other regulations vary state to state. You may be eligible to file a Notice to Pay or Quit, which gives the tenant time (usually three to five days) to either pay the rent or move out. Some bounced checks that exceed a set dollar amount may be considered a felony. The bottom line is know your rights and always stick to the rules. If you're able to show the tenant you're acting fairly and in accordance with regulations, they'll be more likely to cooperate.
Photo credit: Tony Webster/Foter/CC BY