Virtual Classroom:
Rent Manager Xi Service Manager
Become an RM Xi Service Manager Pro Via the Virtual Classroom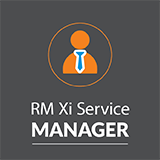 If you're looking to improve your team's service management and office administration skills, then you need to attend the newly revamped Virtual Classroom: Rent Manager Xi Service Manager course.
This 3-hour instructor-led training session will teach you strategies for efficiently creating, tracking, managing, and resolving service issues in Rent Manager Xi. You'll also get tips for turning service management into a revenue generator for your business!
From the comfort of your home or office, you'll learn:
How to customize service issue lists and tickets to fit your management needs
The best practices for creating, printing, and resolving service issues
How to translate service issues into billable items, customer invoices, and vendor/owner bills
The keys to customizing and automating the workflow of major service projects, like turnover and "make ready" jobs
How to set up projects through templates and create recurring service issues
Participants are encouraged to follow along with their instructor in the provided digital workbook—the demonstration activities have been included for you to review later!
Once the demonstration is over, you will have the chance to practice what you just learned in a risk-free simulation of Rent Manager Xi—the same database the instructor uses throughout the tutorial. Your workbook also includes hands-on activities that you can practice in the designated training environment created just for you!
Each attendee also gets one-on-one email access to the session's instructor for a week, as well as 7 days to practice the hands-on activities in the training database.