Virtual Classroom: Accounts Payable
MAKING PAYABLES PAINLESS WITH RENT MANAGER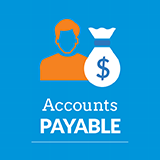 If it feels like your payables have become disordered or unmanageable, or that you're not taking full advantage of Rent Manager's A/P capabilities, then you'll want to enroll in our next Virtual Classroom: Accounts Payable course.
During the three, 2-hour online sessions, you'll discover Rent Manager Xi features that take the manual labor out of payables processing and reduce the risk of human error. We'll also delve into time-saving features and best practices that will help get your accounts payable system in check and on track, including:
A/P Fundamentals
Learn how to correctly set up and process critical payables tasks in Rent Manager Xi

Create vendor accounts
Write checks
Create and pay off bills

Discover how each task impacts your financial reports
Find out how to quickly track down expenses in the program
Streamlining A/P Tasks
Learn how to enter bills faster using a variety of Rent Manager options
Discover best practices that will help you pay bills more efficiently
Review system preferences that can positively impact your payables processing
A/P Features and Customization
Find out how to set up and process credit card transactions
Further optimize your Rent Manager experience by taking advantage of valuable customization features
Plus, you'll learn everything from the comfort of your home or office!
Who should attend this session?
Anyone who wants to get a better handle on their operation's A/P processes.
PARTICIPANTS RECEIVE:
SIX full hours of instructor-led, hands-on training
An in-depth Rent Manager A/P workbook
1-week "fast-pass" instructor access to answer all of your Rent Manager Accounts Payable questions
Register soon, enrollment is limited to only 25 attendees!