Yes, it's January. But it's not too early to start thinking about (and planning for) the 2013 Rent Manager®User Conference, taking place November 5-8! We're working hard at Rent Manager Headquarters, eagerly plotting and preparing our very-best conference to date.
We're putting the finishing touches on the official 2013 conference website right now, with the big reveal slated to happen in a matter of days…
Why Attend the 2013 Conference?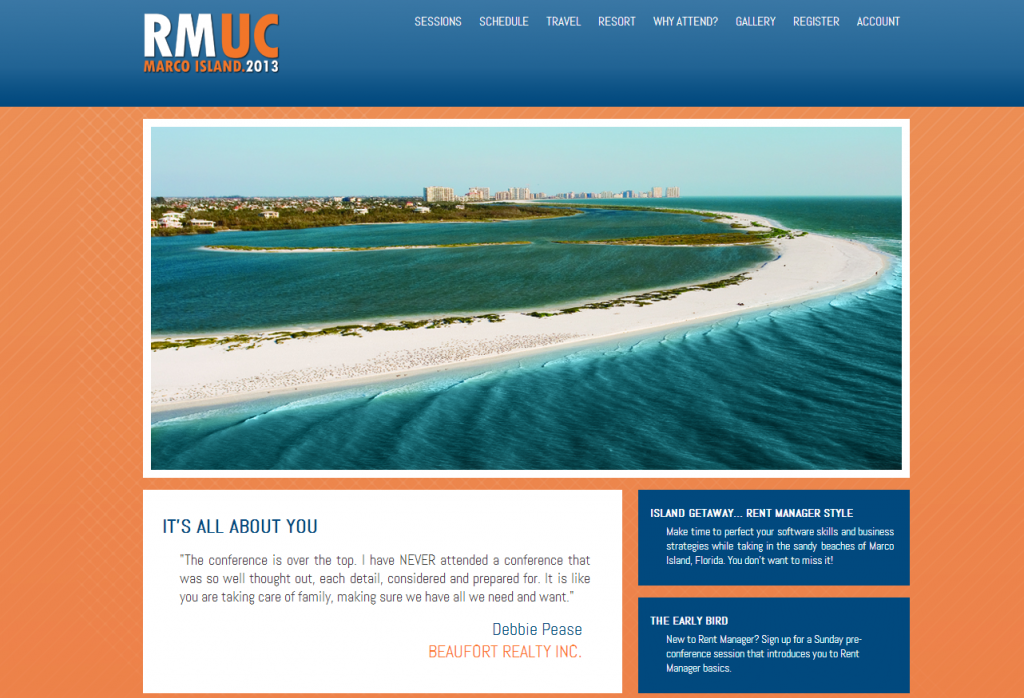 RMUC.2013 is the perfect opportunity to revitalize and grow your business with Rent Manager. Whether you're brand new to the software or a long-time veteran, the conference has educational and networking opportunities for everyone. You'll benefit from more instructional sessions, exhibits, and overall value than ever before!
The Rent Manager crew brings their best to the User Conference, showing attendees just how much their business means to us. And this year…
… We're hitting the beach. Strike the right balance of work and play at this year's conference: Join us in Marco Island, Florida, for beach-style fun and sun, all while you take in the latest that Rent Manager has to offer your business.
Want MORE from Rent Manager?
Make the investment in RMUC.2013 to make the most of your Rent Manager software.
What You Can Count On:
MORE Sessions than Ever Before, Experience more traditional and hands-on courses than ever before.
MORE Technical Support Workshops, Get your questions answered by the Rent Manager experts.
BIGGER Opening Reception, Enjoy hors d'oeuvres and drinks with the Rent Manager team and your industry friends.
BETTER Breakfasts and Lunches, Eat well during your conference stay.
MORE FUN!, Beach-style fun with the crew for dinner, drinks, and surprises!
The countdown is on to three invigorating conference days packed full of Rent Manager know-how… with the backdrop of a Gulf Coast island paradise. Keep an eye out for our RMUC website kick-off'a total conference resource. Don't miss it!