The end of the year is right around the corner and the Rent Manager ®support team wants you to have access to the information, tips, and tricks that will make your year-end close straightforward and problem-free.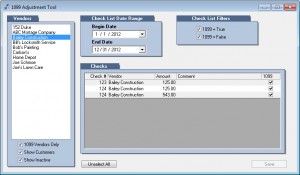 Create accurate Vendor 1099s the FIRST time you run them. Sounds good, right?
If a vendor's 1099 is incorrect, it's most likely because you wrote checks to him/her WITHOUT marking the 1099 column. "What 1099 column?" you ask… Keep reading and we'll get you up-to-speed and save you a lot of headaches at tax time.
When calculating 1099s, Rent Manager first looks to see if the vendor has been marked as a 1099 Vendor on the vendor's General tab. The program then totals all of the checks that do have the 1099 box selected for the calendar year.
Are you mentally adding up the thousands of checks that aren't marked as 1099 checks in your payables? Don't worry'Rent Manager's 1099 Adjustment Tool can correct each vendor's checks with a single click!
Using the 1099 Adjustment Tool
Go to File > Administration > 1099 Adjustment Tool.
Filter the Date Range from 1/1/2015 through 12/31/2015 (or through today's date… you may as well start the new year off right!).
Enable (check the box) 1099 = False to see all checks that are currently excluded from the 1099 total.
Below the list of vendors, enable (check the box) 1099 Vendors Only.
Any checks that appear in the Checks section ARE NOT included in the selected vendor's 1099 (because the 1099 column was not enabled). To include them in the 1099, click Select All and Save.
Rent Manager will then make a backup (this will only happen with the first vendor) and autofill the 1099 boxes for you. All that's left for you is to repeat these steps with the rest of your vendors.
Please note: In certain situations, such as reimbursements, checks SHOULD BE excluded from the 1099. Leave those 1099 boxes unchecked. To view all details on a specific check, double-click the row and the check will open.
For complete instructions on how to process year-end tax documents and reports in Rent Manager, refer to the Knowledgebase and our Year-End Close Resource Center.