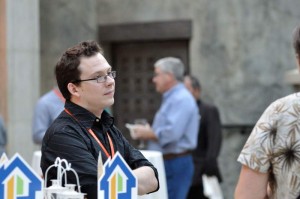 Back to your weekly scheduled program: a dose of web excitement… and, for this installment, Chris G is on the Rent Manager tip, helping us better understand how to calculate Gross Potential Rent (GPR), a popular topic with property managers.
Why You Need This Webinar
If you've been interested in determining the overall performance of your properties, Chris is your guy. He walked us through Gross Potential Rent, the process of examining rental income that is actually collected, versus the property's fullest earning potential.
So what is Gross Potential Rent, anyway?
Chris, our in-house guru, defines GPR as a projection of the maximum revenue that your property could produce if it was rented at full capacity and full market value.
So it's all about what a property could have done. From a business perspective, GPR takes the pulse of your investment, enabling you to understand the maximum revenue on a given property.
Before Chris dug too deep into GPR, he made sure to break down the absolute best practices first:
Top 3 Best Practices for GPR:
1. Posting GPR should ONLY be done at the very end of the month.
2. Posting GPR should ONLY be done after you've completed all other Accounts Payable and Receivable activities for the month, as well as management-fee payments.
3. After posting GPR, don't go back and change any rent-related transaction data for these properties during that date range. Doing so will make your reports inaccurate.
After establishing the rules of the game, Chris dug into the key terms and procedures. Looking at two Profit & Loss reports, a standard P&L and a P&L that considers GPR, we started to get a clearer picture of why knowing GPR can be very valuable.
So what impacts your GPR? Chris explained a few ways: like how vacant units (or Vacancy Loss) can negatively impact the GPR (as vacancies clearly don't generate income the way rented units do).
Chris then demo'd how to see a property's performance. He reminded us to make sure a Market Rent Value is assigned to each unit in a property.
How Good Are You REALLY Doing: Tracking Market Rent
When it comes to GPR, Chris showed us that Market Rent is where it's at. Acting as the backbone of GPR, Market Rent is the maximum amount that a specific property can pull in on a given month. So it's important to keep figures as accurate as possible to ensure the best assessment of your property.
He also taught us how to enter, modify, and batch-modify Market Rent'all within Rent Manager. Bam!
The Name Game
Chris G straight hooked us up! He taught us how to get the Chart of Accounts named and squared away for optimal GPR use. He explained the breakdown of names of accounts in your Rent Manager Chart of Accounts, and why it's important to use these names. He also shared the magic of the Rental Income Adjustment accounts. Set them up, and you'll never have to change them!
Managing and Posting GPR
Chris shared how to create Market Rent and GPR, and then it was time to post. Select which properties you want to post GPR, to see their performance over a month's time. It's simple: check the boxes.
TIP! When selecting dates, remember the best practices and be consistent. Chris G's recommendation: Only post GPR in one-month increments (for the best outcome). And set the post date to the end of the month.
Chris flexed his GPR muscles and Rent Manager prowess by showing us everything from entering market rent values to journal entries and comments. We learned how to manage GPR postings to understand exactly what's going on with accounting.
This is just the tip of the Gross Potential Rent iceberg! Let Chris G help you get your GPR in order. Catch the entire lesson at RentManager.com>Services>Training Videos.
And if you haven't already, get with the program! Participate in our weekly webinars and make Rent Manager work harder for you!
Photo credit: bradipo/Foter/Creative Commons Attribution 2.0 Generic (CC BY 2.0)