And now back to your weekly scheduled program: a dose of web excitement, featuring Chris G. on the Rent Manager® tip. As always, we're devoted to helping you customize Rent Manager and improve your operation's productivity, so learn on…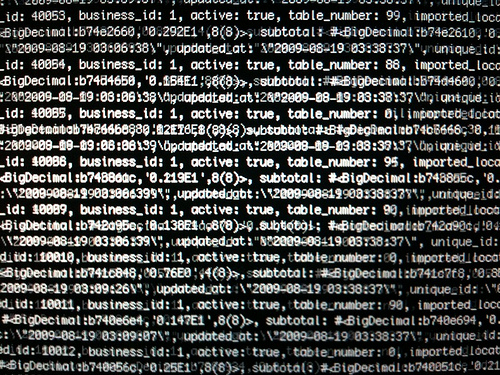 The January 16th webinar taught us the ins and outs of importing data into Rent Manager, from setting up your business in the program, to using batch imports to update existing records on a daily basis. Don't let the name of this webinar fool you, data imports can (and should) be conducted throughout the life of your company, not just during your initial start up with Rent Manager. So let's get to it!
Straight from The Chris' mouth, importing is the preferred way to enter information into your system because it eliminates the time-consuming/error-prone process of entering a whole lot of data by hand. As for the info you can transfer, Rent Manager allows you to import data about your properties, units, customers, charges, payments, vendors, owners, payroll, auto charges, budget, chart of accounts, bills, and vendor credits. Whew! Try saying that three times fast!
Import File Prep
Conducting imports in Rent Manager is a straightforward process and it all starts with your flat file (data file).
Your data should be formatted as a Comma Separated Value (*.csv) file, or as a Text (.txt) file.
The details of each record must be contained in a single line (or "row," in Excel-speak).
You also need to have a column and data for each required field. (To view the required fields, press the F1 key and search the term "Order of Import.").
Remove unnecessary information in your file.

Don't include legends or comments (unless Comments is a data field).
Delete any blank lines between the headers (field names) and data records.
The Lowdown On The Upload
Once your flat file is in tip-top shape, you're ready to start the import process! Chris walked us through opening the Customer/Prospect Import Wizard:
File > Import/Export > Import Customers/Prospects.
Whether you're starting from scratch, or updating existing records with your upload, theCustomer/Prospect Import Wizard will guide you, step-by-step, through the import process. For all the details, watch the training video here.
Just In Case: The Rollback
And in the instance that something goes wrong during your import? Never fear, the Posting Rollback feature enables you to easily delete and import if necessary.
For the complete narrative on how to import data into Rent Manager, check out the Getting Started With RM – Imports and Beginning Balancestraining video at RentManager.com > Services > Training Videos.