Back to your weekly scheduled program: a dose of web excitement… and, for this installment, Chris G is on the Rent Manager® tip, helping us get to know custom tabs, and how they can make your Rent Manager experience even better.
There's something for everyone. Whether you're brand new to the software or a longtime user who's never fully explored custom tabs, this webinar is for you. Improve your business' efficiency and security, make custom tabs your friend.
Watch this webinar and get some help from the pros!
What's this webinar actually about? It's about manipulating, designing, and customizing tabs throughout Rent Manager to help you (and your staff) do your job more effectively.
Chris has the 4-1-1 on custom tabs. Learn how to make them work for you…
In this webinar, you'll:
Learn the purpose and value of custom tabs
Create custom tabs
Organize and format custom tabs
Apply custom tabs to specific users and properties
Use RMScript (the Rent Manager scripting tool) to create customized fields
Introduction to Custom Tabs
So what is a tab anyway??
Chris took us right to the tabs: Go to Rental Info>Customers and you'll see the Customers Form (which you're probably very familiar with) that contains a lot of general information about customers. At the bottom of the form, you'll see the actual tabs: General, People, etc. You can click the tabs to see different types of information about the selected customer.
Chris demo'd all of the tab tricks: how to omit, remove, order them, and create our own customized tabs. He went into a property (Rental Info>Properties), where we could see tabs for General information, Payments, Late Fees, etc. Then, Chris walked us through a custom tab, Statistics, that he created to give the user insight into a property, so the user could track expenses, reporting, etc.
Do you want to keep some tabs only visible to certain users?
Or, maybe you've wanted to get rid of the ePay tab?
Now you can! Mr. Chris was all about creating tabs that display the specific data that individual users need, resulting in streamlined efficiency. Bottom line: From the front office to the agents in the field, different needs warrant different custom tabs.
Creating New Custom Tabs:
Go to: File>Setup>Custom Tabs>Tab Design. Then, select one of the choices that Chris walked us through: start from scratch (blank tab), create a new tab from an existing template, or import from a file or the Online Template Library.
TIP #1: You can access custom tabs that have already been made in the Online Template Library. You don't need to create them from scratch each time!
TIP #2: When you're designing a custom tab, remember that fields can be selected, moved, deleted, and tailored to what you want.
TIP #3: Depending on what entity you've selected (vendors, owners, etc.), the available fields for the custom tab (located on the right side) change to reflect the needs of that entity.
Tip #4: Click and drag available fields into your tab OR double-click, and organize away!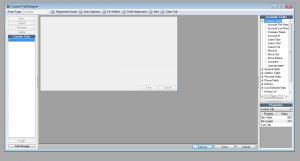 Play Time: Get Custom-ized
Chris asked: Do you want popping magnificent Rent Manager forms? Yes, we do!
A major theme in this webinar is customizing! And in order to truly tailor the tabs to your (or your staff members') needs, take some time to play with the tools and get a lay of the land. Chris showed us all the ropes, dragging his mouse to move and reorganize fields/boxes within the tab. He also showed us how to change the height, width, and how to align the fields (or controls). Color, frames, you name it, you can change it.
What can we say? Chris G. has some serious skills…
And you can, too! Want to delete the Comments box? Go for it. Chris covered the basics, plus some! Want to maintain security with custom tabs? You can. There's an entire world of custom tabs to take ahold of…
Get With the Program
Are you new to Rent Manager? Maybe you're helping a coworker better understand the program? Or, do you need a refresher? Get your tabs in order!
Chris has you covered in this webinar'Get the full custom tabs story at RentManager.com>Services>Training Videos.
And if you haven't already, get with the program! Participate in our weekly webinars and make Rent Manager work harder for you!