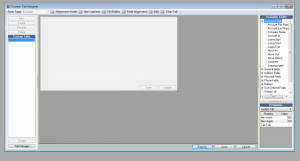 One of the many great things about Rent Manager® is that it can be customized in a myriad of ways. You can tailor which users have access to specific tabs; which tab fields appear and how each are positioned; select the color, and font for each field; and much more! This Webinar Rewind gives you the lowdown on how to design, customize, and manage your tabs with ease!
To grant specific user access for managing/designing tabs go to:
File > Administration > Manager Users > User Information > Setup. Select Enabled to both Manage Form Tabs and Design Custom Tabs to have unfettered access to both design and manage custom tabs.
Next, to begin designing custom tabs, go to:
File > Setup > Custom Tabs > Tab Designer or press F11 to access the Launch feature bar and type Tab Designer.
First select which route you want to take, choose the form type at the top of the screen (i.e.: Customer, Properties, Users, etc.) that you want to create the custom tab for.
Next, you can select whether you want to build a new blank tab, create a new tab from a template, import a new tab from file, or import a new tab from the Online Template Library.
The Available Fields options are on the right. The light gray background of the tab is called the canvas. To add fields to the canvas, simply drag a field from the menu and drop where you want it to appear. To move multiple fields around on the canvas, lasso them by clicking and holding the left mouse button and dragging the dotted lines around the desired fields.
Once selected, use the Alignment Guide, Size Captions, Fix Widths, Field Alignment, and Edit buttons above the canvas to customize the layout of each field. You can change properties of each field, size, font color, background color, etc. And you can highlight multiple fields at once to change properties uniformly.
With the Alignment Guide button, select a grid size to help you arrange the field on your canvas. You can also choose Snap to Grid to automatically lock your fields to the closest grid line.
The Size Caption button will adjust the caption length to be the same as the shortest or widest one selected.
The Fix Widths button can automatically adjust fields to be the same as the shortest or widest one selected.
The Field Alignment button will align the selected field to a left, top, right, or bottom margin.
The Edit button gives you access to basic commands like Cut, Copy, Paste, and most importantly, Undo.
Last but not least, the Clear Tab button will erase all fields so that you have a fresh, blank canvas. (Only use this if you want to start completely over!)
To manage which users have access to specific tabs, simply go to File > Setup > Custom Tabs > Tab Manager. Select Form Type at the top of the page to access Customer, Property, Unit, Vendor, Owner, Prospect, and Asset tabs. Use the Available Tabs and Selected Tabs to add or delete which tabs are shown on each window (for each user).
If you haven't been making the most of Rent Manager, get with the program! Join us every Wednesday at 2:00 pm EST to participate in our live webinars, or visit our Training Videos Archive to review previously recorded sessions at your convenience. It's a great way to make Rent Manager work harder for you!