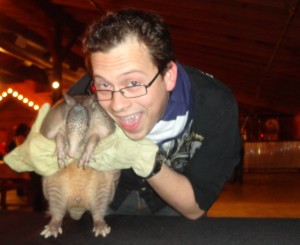 Back to your weekly scheduled program: a dose of web action… and, for this installment, that captivating character Chris G, our resident armadillo-wrangler, is all over Rent Manager!
He schooled us in his vast knowledge of Commercial Setup, the first of a two-part series that will help you get your commercial properties up and running in the software!
If you are new to Rent Manager, or you've never experienced the commercial side of the software, you're in for a treat. And if you're a Rent Manager power-user, there's something for you in this webinar, too. Chris brings all of the Rent Manager goodies to the fore!
Goals of this webinar:
-Set up commercial properties and customers
-Define Common Area Maintenance (CAM) chart accounts and charge types
-Understand the commercial features within Rent Manager
-Setup commercial GL account- and charge-types
-Run the Commercial Rent Roll
-Best practices,including how to enter rent-escalation charges
Introduction to Commercial Setup
Chris surely brought his A-game, breaking down the steps and strategies to getting commercial properties set up in Rent Manager.
First thing's first: Chris walked us through the basics, how to Enter CAM-based General Ledger accounts and charge types. He gave us a couple of real-life scenario: landscaping costs and the expenses associated with maintaining escalators in a mall. Two great examples!
Chris G. talked us through charging based on estimations, and then collecting money from customers, and finally, paying the respective vendor(s). This is why it's so important to reconcile: Reconciliation looks at what you've charged customers vs. what you actually had to pay in CAM charges.
Create CAM Charges
Chris has a lot of knowledge to share about CAM! He helped us create a pair of CAM charges, for both landscaping and the escalator maintenance.
Go to Lists> Charge Type
Click New
Now you're in the Add Charge Types box! Chris demo'd how to link the CAM charge to a specific Chart Account and fill in all of the information'like Charge Type (name), description, etc.
TIP! Don't forget to check the box This is a CAM charge type! This is important for when you reconcile.
Create a Commercial Account
Next, Chris showed us how to create a CAM account that will track actual expenses.
Go to Lists> Chart of Accounts
Click Add an account
In the Type drop-down menu, choose Expense and make the GL Account No. what you want. Chris named the account: CAM Landscaping.
TIP! Don't forget to check the box so it's recognized as a CAM expense account!
Working his Rent Manager magic, Mr. G. rocked the ins and outs of adding General Ledger accounts… Solid!
Reconcile & Recovery
This is VERY important stuff! Chris sets the record straight with recovery type and reconciling. We found out how to reconcile the charges that are posted to customer accounts.
By showcasing all of the tips and tricks, Chris taught us how to create commercial properties in no time!
Best practices were sprinkled throughout this webinar, adding value to your Rent Manager experience. Here's a sneak-peak of a few:
#1: In any Rent Manager form, remember that the brown fields are required.
#2: UDFs (User-Defined Fields) will make your life easier! Use them to define and create fields to track the things that Rent Manager doesn't automatically track for you. These fields are completely tailored to YOUR needs and customizable!
#3: It is possible to have different types of accounts with a commercial property. For example, a property could have one or two apartments (residential) and one storefront (commercial).
#4: When creating a new commercial property, make sure to enter the square footage, and be accurate!
If you haven't been making the most of Rent Manager, get with the program! Chris has you covered in this webinar' so get the real skinny on commercial property setup at RentManager.com>Services>Training Videos.
Participate in our weekly webinars, and make Rent Manager work harder for you!
Photo credit: pixonomy/Foter/Creative Commons Attribution-ShareAlike 2.0 Generic (CC BY-SA 2.0)