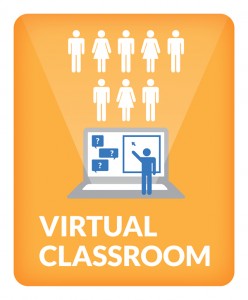 Helping you make the most of Rent Manager® is extremely important to us, because the more you know about the software, the more you can optimize your property management business. That's why we offer so many learning resources, including weekly webinars, training videos, and blog posts. The most recent addition to our training arsenal is the Rent Manager Virtual Classroom.
Hands-on Virtual Classroom sessions connect you with other Rent Manager users in an interactive digital classroom setting. Comprised of three, 2-hour online sessions, the courses show you how to handle fundamental tasks and master individual facets of Rent Manager. The inaugural Virtual Classroom course, Accounts Receivables, gave participants an insider's view on streamlining billing and incoming-payment processes, all from the comfort of their home or office.
Sharpen your software skills and get all of your questions answered quickly and accurately by the Rent Manager expert who leads the class. Our next two Virtual Classroom sessions, Rent Manager 101 and Scripting 101, give you just that opportunity:
Rent Manager 101
January 20, 22, & 24, 2014
This instructor-led, hands-on session will introduce new users to the
"Rent Manager essentials." Participants will:
Practice setting up Properties, Customers, the Chart of Accounts, Charge Types, and more
Learn how to set up charges, receive payments, make deposits, pay bills, etc.
Master Rent Manager's Customer Relationship Management (CRM) features, from establishing a calendar, to reviewing history notes, to generating letters
Scripting 101
February 17, 19, & 21, 2014
Gain the knowledge you need to customize everything from reports to letter templates in Rent Manager. No previous scripting experience is required to participate. During this series of sessions, you will:
Learn RMScript, Rent Manager's unique macro syntax language
Discover and master the software's scripting tools
Find out how to mine the Rent Manager Help File for scripts and lots of helpful tips
Both of these classes will be exceptional learning opportunities for you and your staff. To learn more about these one-of-a-kind hands-on classes, give your sales representative a call today at 800-669-0871!