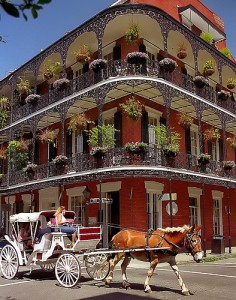 If you're heading to New Orleans this October for the 2015 Rent Manager User Conference (RMUC.15)—and you ought to be!—then you're probably looking forward to exploring the city on your nights off. In between the 20 new sessions, great mealtime networking, and awesome presenters, make sure you make some time for some quintessential New Orleans culture.
Southern Savers lists 25 free things to do in New Orleans, so grab a friend and head out to some of our favorite suggestions. For your convenience, we've listed the travel times between each location and the conference hotel, Hyatt Regency New Orleans.

HOT SAUCE TASTING AT PEPPER PALACE Try out their hottest sauces for free before you make a purchase. Or just see if you can survive their ghost pepper blends. Anyone who enjoys cooking or spicy food will enjoy poking around their sauces, spices and salsas! (travel time: 12 minutes)
Walk on the Riverfront Take a stroll next to mighty Mississippi and listen for the Steamboat Natchez's whistle. (travel time: 7 minutes)
BARCADIA FREE GAMES Play Jumbo Jenga or Frisbee-sized Connect Four at Barcadia on Tchoupitoulas Street. (travel time: 12 minutes)
ALGIERS FERRY– Take a ride on the Mississippi River on the Algiers Ferry and grab lunch in Algiers on the other sideof the river. The ferry runs daily and offers rides for free! (travel time: 14 minutes)
THE FRENCH MARKET On the corner of the French Quarter is the French Market. A great place to grab authentic Cajun souvenirs. (travel time: 11 minutes)
DUELING PIANOS Request a song or enjoy the music at Pat O'Brien's Dueling Piano Bar. (travel time: 11 minutes)
St. Louis Cathedral The oldest active Catholic cathedral in the United States. Step inside and be awed by its antique architecture. (travel time: 10 minutes)
THE ST. CHARLES STREETCAR LINE Only $1.25 a ride and a great way to see the city in a comfortable, historical way! (travel time: 8 minutes)
VISIT CITY PARK In the middle of the city, City Park has paddle boats, tandem bikes and more for rent. Or set up a hammock in the trees near the lake to relax and enjoy the Cajun sun. (travel time: 14 minutes)
Aside from the bustling culture and loads of free activities, the Rent Manager User Conference is an excellent opportunity to go in-depth into the Rent Manager software, work one-on-one with our support team, learn best practices to streamline day-to-day activities, and network with other professionals in the field.
For more information on RMUC.15, visit www.conference.rentmanager.com.
Photo credit: David Paul Ohmer/Foter/CC BY