As we inch closer to the month where schedules get more hectic, lines grow a little longer, and patience gets a little shorter, here are some simple and easy ways to give back to and rekindle relationships with your residents (and everyone else)… without making you want to say Bah, humbug in the process.
December 3rd is National Roof Over Your Head Day.
It's a time dedicated to appreciating the things we have… especially having a comfortable place to live. Unfortunately, there are many people in this country who won't have the luxury of celebrating this holiday. In fact, more than 600,000 people in the U.S. are estimated to be without shelter.
That makes for the perfect opportunity to recognize blessings and enlist the help of your residents to contribute to a homeless shelter/organization and help those in need.
Put up posters to spread the word and let your renters know you are hosting a food and coat drive. Arrange the donation box in your rental office or, if that's not practical, give them the location of a shelter where they can donate directly.
Set a deadline by which you want to receive all donations and then either total up the estimated dollars of goods donated or how many people the goods went to help. Post the total around your rental office, include it in your newsletter, or tout it on Facebook. Let your residents know they made a difference!
Fudgy Goodness for All… and for All a Delight!
December 8th is officially national Brownie Day. And this day is just one more reason to put your diet on hold and bake up some love for your residents.
A cross between a cake and a cookie, the first brownie is said to have gotten its start as an oops in the early 20th century when a Boston chef mistakenly added chocolate to a batch of biscuits. Another story claims that a housewife in Maine forgot to add baking powder to her chocolate cake'ending up with a flat version we've come to know as a brownie. Either story you want to stick with is fine with us!
Just pop a pan or two of these chocolaty delights into the oven and serve them up hot… with a glass of ice cold milk to wash 'em down. They're guaranteed to bring even the most reclusive renter into the office for a visit and send them out the door with a smile!
Here We Come A-Waffling!
December 17th is national Maple Syrup Day. And I can't think of a better way to celebrate this sticky-sweet holiday than by setting up a waffle bar. It's easier than you'd think!
First, spread the word to your renters. Second, make some waffles (it's as easy as whipping up some batter and plugging in the waffle iron), provide real maple syrup… as well as some other toppings like sweet-cream butter, powdered sugar, and cinnamon.
Finally, layout your spread by placing all ingredients on a clever, easy-to-clean-up piece of cardboard or plastic table cloth and write instructions on it with a big Sharpie®.
It's Festivus for the Rest of Us
If you're a Seinfeld fanatic or just enjoy gathering around a bare aluminum pole and having an annual Airing of Grievances and Feats of Strength, then gather your residents to share in the Festivus fun on December 23rd.
Throw a Festivus party. If you're not sure exactly how to celebrate Festivus, here's a tutorial that walks you through step by step with pictures. You could have a costume party where each person dresses up like a Seinfeld character… or have a Festivus dinner party where everyone brings their favorite Seinfeld-related food such as: meatloaf, Hampton tomatoes, lobster bisque, or calzones.
Ho, Ho, Ho… it's a Co, Co-coa Christmas!
With Christmas often being an overdone, high-pressure holiday, residents are sure to appreciate a laidback celebration to take it down a notch.
And what better way to relax and spread some Christmas cheer than with a hot cocoa bar for an extra-special (and simple!) treat.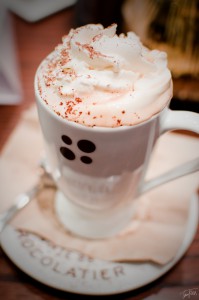 Here's what to include in your hot cocoa bar:
A pump pot of perfect cocoa

1 1/4 cups cocoa powder
1 1/4 cups granulated sugar
3 TBS vanilla extract
1 gallon milk
1 cup water
Mix cocoa, sugar, and water together and bring to a boil. Then add milk and vanilla. Heat while stirring until ideal temperature is reached.
Toppings: caramel sauce, marshmallows, peppermint, peanut butter chips, whipped cream
Cups, spoons, stirrers, and serving bowls for toppings
You can even print some free, downloadable signage to showcase your hot chocolate bar… complete with all the fixings!
Ring in the New Year!
Celebrate the beginning of another year and share your hopes for 2014 by hosting a New Year's Eve party for your residents and staff alike.
Here are some must-have items to ring in the New Year:
Party poppers, sparklers, and decorations
Champagne for a midnight toast
Televisions for watching the ball drop on Time's Square
DJ or some tunes for dancing
Appetizers and drinks
A resolution board for everyone to write down their goals for the New Year. Or, if you have a close-knit group of staff or residents, you can share laughs by having each guest write down their #1 resolution on a slip of paper and putting it in a bowl. Then each person draws one piece of paper, reads it aloud, and tries to guess who wrote it.
Photo credit: Cristiano Betta / Foter.com / CC BY
Photo credit: M. Keefe / Foter.com / CC BY
Photo credit: Waldo Jaquith / Foter.com / CC BY-SA
Photo credit: TMAB2003/Foter/CC BY-ND
Photo credit: [cipher/Foter/CC BY-SA
Photo credit: Hryck./Foter/CC BY