As a property manager, you accumulate a lot of paperwork. You're legally required to keep some documents for a specified period of time, others fall into a gray area, and some you must purge after the allotted amount of time has passed. That's a lot to remember! So here's an easy guide to the what and how long of managing your documents.
You are required by the IRS to keep these for at least three years:
All Form 1099s for anyone who paid you more than $600 during the calendar year.
Records of your rental income and expenses, along with all supporting documents such as cancelled checks, credit card records, and expense receipts. This way you can prove that your deductions were legitimate in the event you are audited by the IRS.
Employee payroll and tax records must be kept for four years.
Regarding electronic records vs. paper records… either method is acceptable to the IRS.
Basic property info, it's wise to retain these for at least 3 to 5 years:
Mortgage and insurance information
Maintenance and repair receipts
Original copies of leases
Appliance instruction manuals and purchase/warranty records
Move-in and move-out inspection records, photos, and damage logs
Tenant information, a good rule of thumb is to keep the following on file for at least five years from the time the rental application is submitted. However, it's not a bad idea to keep these records for a longer period of time, as statutes of limitations vary from state to state.
Names, phone numbers, contact info, and an alternate contact person
Amount of monthly rental fee
Security deposits paid/refunded
Legal and eviction notices served to the renter
Communication history, notices, complaints, correspondence with the tenant
Applications received
Credit reports fall under different parameters.
Under the Disposal Rule of the Fair and Accurate Credit Transitions Act of 2003, also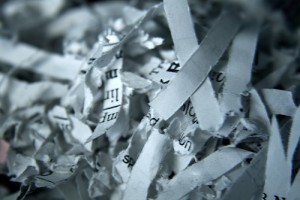 known as FACTA, you're required to dispose of a tenant's credit report when you no longer have a legitimate reason to keep it. Since a discrimination claim can be filed under federal law within two years of the alleged occurrence, keep credit reports in a secure cabinet for at least that amount of time before purging.
Some states have a longer statute of limitations, so check on the specific regulations to ensure you're keeping records long enough. Then, securely purge the records with a shredder once the allotted time has passed. Don't forget about electronic records, either. Credit reports stored on your computer or mobile device need to be deleted as well.
Photo credit: luxomedia / Foter / CC BY-NC-SA
Photo credit: mastahanky / Foter / CC BY-NC-SA