The key to making the most of Rent Manager's extensive property-management functionality is knowing how to use its many features efficiently and effectively.And when it comes to learning about your software, it doesn't get much more informative (or fun) than our annual Rent Manager User Conference.
In case you aren't familiar with the conference's educational opportunities, or if you're wondering what's new knowledge-wise for RMUC.2013, we put together this overview to help you get ready for November!
Be Prepared!
Pre-Conference is the ideal setting to hone your skills and prepare for your User Conference sessions. This five-hour interactive seminar gives you the opportunity to practice setting up your database, GL accounts, charge types, properties, and more (be sure to bring your laptop!). You'll also have time to enhance your payables and receivables practices by making and receiving payments and processing deposits in your conference database.
Our experts will be on hand to guide you through the activities and answer questions, so don't overlook this enlightening event! Pre-Conference takes place November 5th from 12:30 PM to 5:30 PM.
Listen & Learn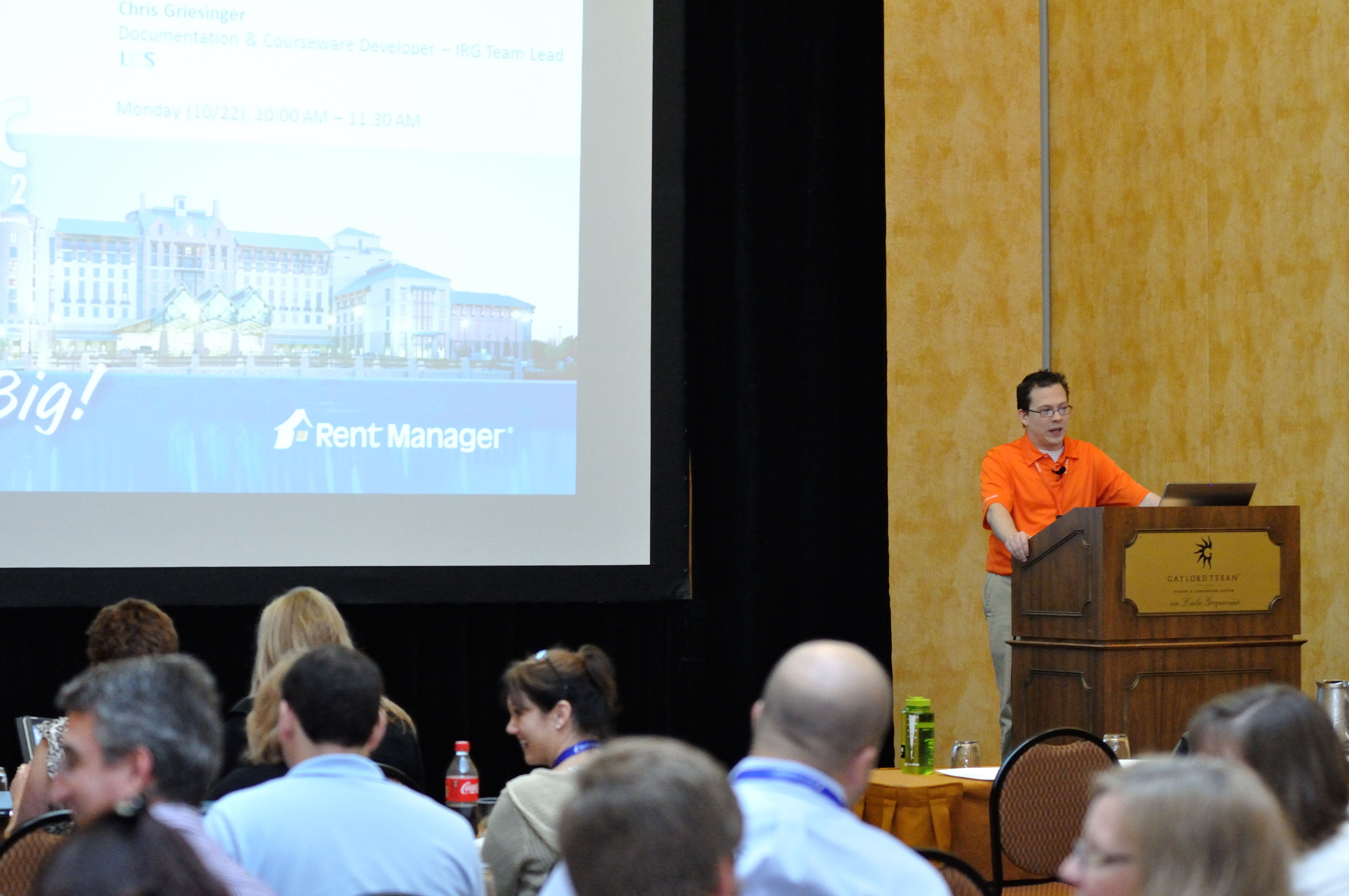 Three tracks of instructor-led, lecture-style classes, Xi Seminars, RM12 Seminars, and Business Strategies, will showcase specific portions of Rent Manager and outline best practices. You'll learn about new features and unfamiliar facets of the software from our expert instructors and support staff during these sessions.
Class Length: 1:30; All Presentation
Discover by Doing
You asked and we're delivering! RMUC.2013 will feature two tracks of hands-on training sessions for Rent Manager Xi and Rent Manager 12. Bring your laptop and learn by doing'your class presenter will give a short demonstration and then you'll be turned loose in Rent Manager to complete activities that reinforce the class topic. If you're a tactile learner, these are the sessions for you!
Class Length: 1:45; 1 Part Presentation + 2 Parts Hands-On Practice
Both Instructor-led and Hands-on courses range in complexity, from intro-level lessons to sophisticated instruction developed specifically for Rent Manager power users. Whatever level you choose, you'll come away with information and insight that will help you simplify your processes and enhance your business. In total, there are more than 50 sessions being offered at RMUC.2013!
Giving Credit Where Credit is Due
As in the past, you'll be able to earn professional education credit by attending sessions that meet NARPM and NASBA  eligibility requirements. Check out the Session Descriptions page on the conference site to find out which lessons qualify for credit.
Take Advantage of Tech Support
Don't forget that you can also schedule some face time with a Rent Manager support technician during the conference (30-minute sessions). This is a great way to learn about your specific Rent Manager setup and tackle any questions/issues you may have.
The smarts are there for the taking! Become a master of Rent Manager's property management, accounting, CRM, work-flow administration, and marketing capabilities at RMUC.2013.