Personalizing your professional email address
By Erin Hooper, LCS
Eighty five percent of the world's Internet users correspond via email, making it an essential and inescapable communications tool for both individuals and businesses. Fortunately, free email service is available from a variety of providers, Google, Hotmail/Outlook.com, Yahoo!, Zoho, and so on, enabling you to easily stay in touch with your professional and personal contacts. But while complimentary services are always a welcome find, free email comes with an often overlooked drawback:
An email address that ends in @gmail.com, @yahoo.com, @hotmail.com, etc., denies you an important opportunity to brand your company and present yourself to contacts and customers in a polished, professional fashion.
A generic email address may suggest that you are not serious about your business, or that your operation isn't legitimate. Happily, it's easy and inexpensive to personalize your email handle (and you don't have to be an IT whiz to do it).
To start, you need to establish what you want your domain name'the part of the address that follows the @ symbol'to be. The domain is an important identifier that gives your communications authority and presence, so take some time to brainstorm a number of easy-to-remember-and-understand options that will resonate with your recipients. It's always a safe bet to incorporate your business' name in the domain, as it's a great way to brand your correspondences; for example, xsmith@lcs.com or xsmith@rentmanager.com.
Once your list of names is compiled, you'll need to check availability through a domain name registrar (click here and here for registrar reviews). While there are countless possibilities, there's always a chance that the domain you like best is already in use. That's why you should compose a number of options to research. Also, keep in mind that every domain name must end with a top-level domain (TLD) extension'that's the .com, .net, .biz, .cc, .info portion of an address. So if the domain you've chosen isn't available with a .com extension, try looking it up using a different TLD; for example, if hereismycompany.com is already in use, try hereismycompany.net instead.
When you've identified the domain name that best represents your organization, take ownership of it by registering it. This can be done through the domain name registrar, a web host, or even your email service provider. A nominal fee, anywhere from $5 to $40, is typically charged for an annual filing, but costs do fluctuate depending on the registrar and the desirability of the domain name you've chosen. As you would with any other business expense, shop around to make sure you're getting the best price available. And don't forget your domain name can also serve as the address (URL) for a web site, blog, web portal, or any other type of online document.
You're now ready to set up a personalized email account using your newly acquired domain'and there are plenty of options to choose from. Many of the big email providers offer tailored addresses, including Google (more info here), Hotmail/Outlook.com (more info here), Yahoo! (more info here), and Zoho (more info here). To work within any of these platforms, click on the more info links and follow the provider's enrollment instructions.
Your domain name registrar may also offer email hosting products, which could further simplify the setup process. Or, if you'd like to stay with your current email host, contact them via their customer service portal to find out if address customization is an offered service.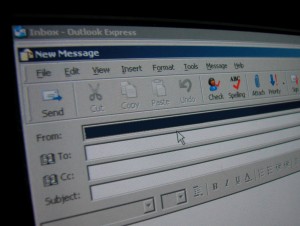 Whichever arrangement you choose, taking charge of your business' online domain enables you to immediately enhance your company's image and set the groundwork for its future digital efforts. Email today, Master of the Web tomorrow!