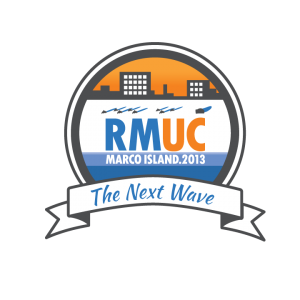 Property-management professionals from across the United States and Canada (and Jamaica!) came to the postcard-perfect Marco Island Marriott for a week of learning, networking, and merrymaking at the 2013 Rent Manager User Conference. Representing the residential, commercial, manufactured home, student housing, and homeowners' association segments of the industry, attendees truly made the most of the conference, and then some!
It all started November 5th with Pre-Conference, a half-day "hands-on" introduction to Rent Manager® that gave participants the opportunity to practice working in the program before diving into conference. Attendees had access to the entire Rent Manager team while working on specialized activities that honed their software skills and prepared them for the many sessions offered during the conference.
The next event on the agenda was the Opening Reception, an open-air cocktail party where everyone had the opportunity to enjoy the ocean breezes and meet their fellow RMUC.2013 participants.
Wednesday morning, November 6th, began with a seaside breakfast, immediately followed by the conference keynote speech. Delivered by LCS President and CEO David Hegemann, the address was full of insight and excitement as he announced the development of several new Rent Manager tool sets, as well as firsthand look at Rent Manager 12. Here are some of the highlights:
Rent Manager users can now accept money order and Check21 ePay payments via PayLease
Trulia® and Zillow® integration are now available in Rent Manager for quick and easy publication of online rental listings
A complete revenue management feature set, powered by Rainmaker, is coming soon to Rent Manager
Rent Manager 12, Attendees were treated to a sneak-peek of the new Rent Manager 12 platform during the presentation
rmAppSuite, a one-stop source for all of Rent Manager's available iOS and Android apps will be complete in early 2014. rmAppSuite will incorporate:

rmCapture: gives you the ability to quickly take and upload pictures into RMO, available since February of 2013
rmInspection: allows property managers to conduct inspections and enter data in real time on their iPhones and iPads, coming soon to iOS devices, followed shortly thereafter by the Android app
Additional apps will be added to the suite in 2014
Also announced during the speech was the date and location of the 2014 Rent Manager User Conference, October 13-16, 2014 in San Diego at the Park Hyatt Aviara Resort. Talk about a great surprise!
After the keynote, the first of three days of intensive Rent Manager/property management education got underway, with attendees choosing from more than 50 traditional and hands-on courses designed to help them make the most of their software, their businesses, and their respective industries. Also included in the session options were various seminars led by some of the brightest stars in their fields:
Conference-goers also had an opportunity to learn about the RMUC.2013 sponsors'companies that specialize in catering to the needs of property management businesses throughout North America:
National Exemption Service
Between sessions, attendees and presenters alike were treated to a cornucopia of tasty tidbits with break-time snacks and lunches on the Sunset Terrace. The only thing better than those edible interludes was the beach-front dining at the Neon Nights party on Wednesday evening.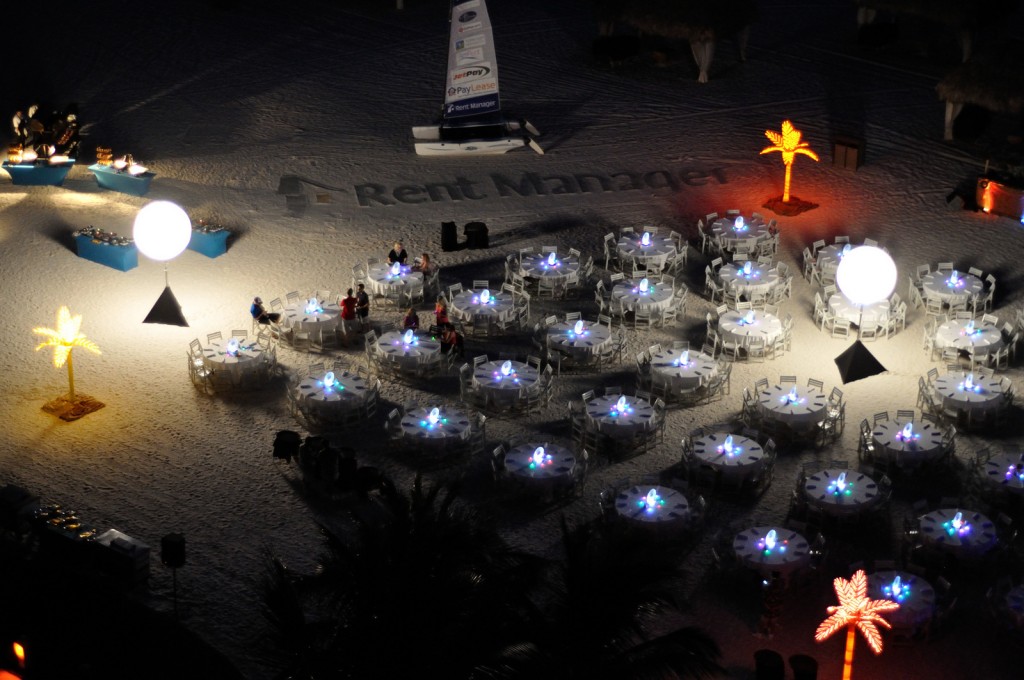 The weather was perfect, once again, as everyone gathered on the Marriott's pristine white-sand beach for dinner, dancing, and a lot of fun. The beach was literally aglow, as partygoers played blacklight mini-golf, cornhole, and volleyball. Guests could also play big-screen video games, try on temporary tattoos, or simply enjoy the company of their industry peers, networking into the wee hours of the night.
Sessions were back in full swing Thursday and Friday, with courses focusing on Rent Manager Xi, Rent Manager 12, and Business Strategies. Some of the favorites included Accounting Practices, Service Manager, and Accounts Payable Xi.
Also taking place during the conference was the Big Kahuna of Rent Manager Beach contest. Attendees were asked to ponder three property-management-related questions and then share their answers with everyone by posting them on the three Kahuna Boards set up in the conference area. Then everybody was asked to vote for their favorite answer on each board, and when the votes were tallied, the winners were…
Dora Danesi of Pan American Properties, Inc.
Mark Titshaw of Sterling Acceptance Corporation
Regina Breitner of Pennylane Properties
…with Regina earning bragging rights as the inaugural Big Kahuna of Rent Manager Beach! Kudos to our Kahunas!
Congratulations are also in order for Melissa Miceli of First Choice Property Management who won the raffle held by Safeguard. Her prize was a seven-day vacation at a resort of her choice (with more than 3,000 worldwide locations for her to choose from).
There's no question that this year's Rent Manager User Conference was one for the record books. Thank you again to all who participated… we simply couldn't have done it without you. If you'd like to relive the RMUC.2013 experience, check out our online photo albums on Facebook or our Rent Manager blog!
Now… who's ready for San Diego??? #RMUC2014