Cincinnati, Ohio (May 16, 2013), LCS, developer of business-critical technologies, announced today the release of the rmCapture app, which works in tandem with its Rent Manager Online property management software.
rmCapture enables users of Rent Manager Online (RMO) to take pictures with their iOS and Android devices and instantly upload them to RMO. rmCapture can be used to market available units, document damages after a move out, take headshots of residents and prospects, and more.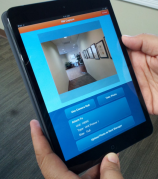 rmCapture is a great tool for our customers, because they're always on the go, said Tony Little, Chief Technology Officer at LCS. It gives users the flexibility to quickly and easily add pictures to their Rent Manager®database, without having to be at their desk. And because it's a completely native mobile application, it integrates seamlessly with RMO, so the process is as simple as point, shoot, and upload.
Once photos have been imported to RMO, users can add them to online listings, email them to prospects, include them in property records, etc. Images uploaded via rmCapture can be added to any photo-compatible part of RMO.
rmCapture can be downloaded at no charge from the iTunes App Store and the Google Play Store.
About LCS
Incorporated in 1988 and headquartered in Cincinnati, Ohio, London Computer Systems (LCS) is a developer of business-critical software technologies used in all 50 states and several markets throughout the world. LCS products include Rent Manager Property Management and Accounting software, Net Dial Tone (NDT) VoIP telephone systems, and Sentry Data Backup strategies.
LCS also provides enterprise-level hosting solutions via its Sentry Data Center, as well as complete network design, implementation, and support services; and custom web site design through its IT and Professional Services divisions. With more than 15,000 hosted users, LCS combines best technology with best practices to create a unique, affordable, customer-focused service.
For more information about the company and its offerings, visit LCS.com.
# # #
Also mentioned in: