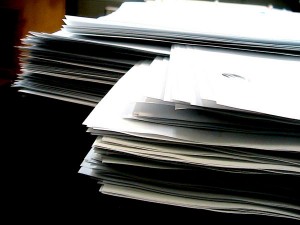 Run all of your statements with a single click of the mouse? Yes! Rent Manager's batched reports functionality lets you run any combination of reports, Balance Sheet, Profit & Loss, Summary Rent Roll, Aged Payables, etc., in seconds. Here's how:
Select Reports > Batched Reports > Manage Report Batches.
Click New Batch at the top left of the Batched Reports form.
Enter a name for the new batch of reports. A blank form is displayed and the Available Reports list shows the reports that you can add to the batch.
Select an available report and click → to add it to the Reports included in selected batch group. The report's options are displayed at the bottom of the form.
Double-click on an option's current value to change its setting.Repeat steps 1 5 for each report you want to add to the batch.

Option items determine how each report will run. This is the same information you would see if you were running the reports separately. Rent Manager can ask you to define an option's value at run-time (such as start and end dates), or it will use the values you established while creating the batch to run the report.

Use <- and -> to arrange reports in the preferred run-time order.
Click Save.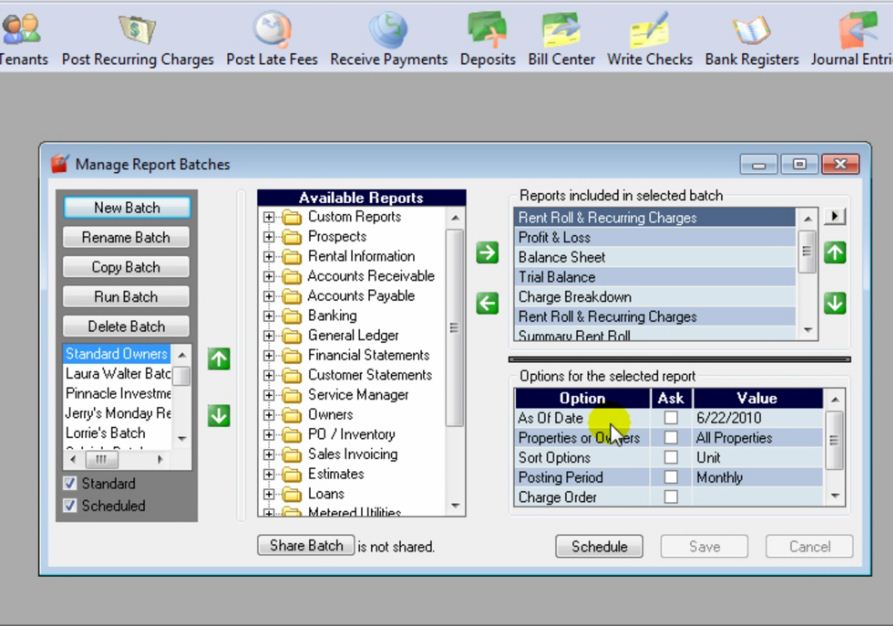 Once you've got your batched reports set up, here's how you manage them:
Select Reports > Batched Reports > Manage Report Batches.
To Edit
Select a batched report from the list on the left side of the form. The Batch Reports list on the right side of the form shows the individual reports that are contained in the batch. When you click on a report in the list, its current report settings are displayed at the bottom of the form.
To change report options, select the appropriate value presented on the right. Click on a value and select an option from the pop-up menu.
If you change any values, click Save to continue.
To Rename/Share
To rename the selected batch, click Rename Batch. The batch name field becomes editable; change the name as desired. The batch is renamed in the menus, and you can share the newly-named batch report with other users by clicking Share.
To Run
To run the selected batch, click Run Batch. Select the appropriate options that are displayed at run-time.
To Delete
To delete the selected batch, click Delete Batch. A confirmation box will be displayed.
For even more Rent Manager® tips and tricks, check out the Knowledgebase, attend our Wednesday Webinars, and follow the Rent Manager blog!
Photo credit: FeatheredTar/Foter/Creative Commons Attribution 2.0 Generic (CC BY 2.0)