Implementation and Training Specialist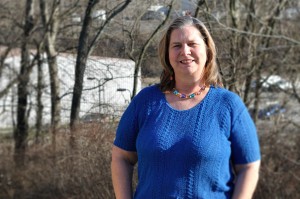 If you're ever lucky enough to land at Sandi Leukering's house during the holidays, you're in for a treat.
Organized team events that far-surpass Pin the Tail on the Donkey are standard'as is the diverse guest list that may very well include a tattoo artist, church official, and a couple of bikers. It's a welcoming, come as you are atmosphere and Sandi brings this warmth to her professional life, too.
Vibrant, sharp and witty, Sandi has a reputation for rolling up her sleeves whenever she is needed. Throughout her career she's donned many hats: admin, sales rep, dispatcher, teacher, telecommunications, life-of-the-party, creative, and comedian-of-sorts.
Virtually everyone at LCS has had a meaningful connection or conversation with Sandi. It's simply unavoidable. That spark in her eye and pep in her step say she's lived a little'and she has a story people want to hear.
LCS-by-Day
When Sandi (and her hearty résumé) arrived on the LCS scene about five years ago, she quickly felt the twinge of home. Marrying her telecommunications and customer service backgrounds, Customer Support was a natural fit. A seasoned communicator, Sandi moved on to the Implementation and Training Group (ITG) after two years to help new Rent Manager® customers get acquainted and engaged with the software.
The ITG team is focused on training customers to know and understand Rent Manager'and they don't graduate customers until they are truly ready. With that said, patience comes easy for Sandi. She is especially equipped to train customers who need a little more attention or time'and her coworkers know that she is just the woman for the job.
The business set-up process and training can take up to a couple of months, and Sandi loves every minute. I strive to keep a fresh attitude and perspective with each new customer that I work with, she explains, even though the business set-up process can appear similar each time. Sandi has a strong desire to meet each individual or business' specific needs and resists ever approaching her work in a cookie-cutter manner.
It's Always about Personal Relationships
Regardless of the kind of day she's having, Sandi has an uncanny ability to consistently present herself with grace and kindness'engaging with people and prioritizing their needs.
So what about the million-dollar question: Why LCS? Is it the people?
The number one reason is [CEO] Dave Hegemann, Sandi immediately reveals. I have the utmost respect for Dave as a business man'and he has my 100% trust. He stands for everything I want to see in a business leader.
This isn't lip service. It's a very common sentiment from employees at LCS. If an employee has a concern, Dave is open to listening. Sandi sums it up nicely: People here trust Dave.
Along with her appreciation for Mr. Hegemann, Sandi is consistently motivated by the customers. Helping people is ultimately what energizes her. Longtime coworker and friend, Melissa Hendrix, describes Sandi as the most thoughtful person she knows'someone who gives her all to anyone who steps in her path.
From inside her home to every other touch-point, the things in life that move Sandi always point back to family or personal relationships.
Superhero-by-Night
When it comes to really experiencing life, some would argue that Sandi's an expert.
When she's not working with customers and helping them through their software change, she sinks her energy into home and family. She helps out grown children when they need it, takes care of her grandchildren'and when she isn't remodeling her own home (more on that later), she's focusing on her tenants' residences.
Yes, this Rent Manager guru is also a property management pro'Sandi and her husband, Karl, oversee one building with four efficiency apartments. I wanted these pay-weekly, fully furnished spaces to help people who are in situations where they need a leg up'who need someone to give them a chance.
She shares, There's a real need for more short-term, pay- by-the-week housing options. The flexibility and care Sandi brings customers at LCS translates to her residents as well. People need temporary help'and if I can provide it, I do.
It's not surprising'Sandi's tenants stay.
Home Is Where…
Most people renovate once in a while, or once in a lifetime. In Sandi's case, life is remodeling. On any given day, Karl may arrive home to find one less wall in their Milford home'because she's ready to remake the space.
She's fearless about reorganizing her house to achieve her vision. Her family has grown accustomed to her DIY habits: My kids grew up in sawdust, she'll tell you. Projects keep moving, just like life.
Sandi likens her ongoing home remodel to an artistic process: I have a vision for my home. It's my canvas'and I need to fulfill it. As long as we're adding to the canvas and it's coming to life, I love it. When we stop adding to the canvas or we walk away'it's like an unfinished piece of art.
Fulfilling her home projects feeds Sandi, just as her personal and professional relationships do. Luckily for us at LCS, there are always relationships to be built and customers to guide.